Image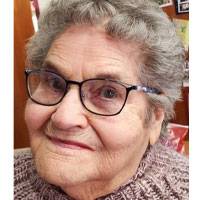 Wayland – Ann M. (Hargrave) Schubmehl, 87, passed away late Wednesday evening, July 6, 2022, at the Livingston County Center for Nursing and Rehabilitation in Mt. Morris with family
by her side. Ann was born January 29, 1935 in Dansville, the daughter of the late Alvin and Anna M. (Lathrop) Hargrave. Ann and her family moved to Wayland when she was 5 years old and has remained a lifelong resident of the Wayland area until her move to Mt. Morris several years ago. Ann was a member of the first graduating class from the newly built Wayland Central School in 1953.
Ann and Herman "Herm" Schubmehl were married November 28, 1953 at St. Joseph's Church by a special friend, Msgr. Gerard Krieg. Together they celebrated 52 years of marriage prior to
Herm passing away in June of 2006. Ann worked at Westinghouse assisting with the manufacturing of tubes for televisions. Once children came along, Ann was a devoted homemaker for her husband and children. After the children were grown, she worked at Tops in Dansville for 18 years.
Ann's hobbies were many, and the work endless. She enjoyed reading, knitting and gardening; both flowers and vegetables. The family vegetable business supplied hundreds of quarts of
vegetables, which she canned to feed her family throughout the year. Ann loved baseball and was a Little League mom, always helping when she could. Ann frequently traveled with her
best friends, Nancy Goodrich and RoseAnn Wolfanger, in her later years. Ann was a dedicated and faithful member of St. Joseph's Church, as it was a very important part of her life.
Ann was predeceased by her parents, Alvin and Anna Hargrave; her husband, Herm Schubmehl; 2 sons, John and Steven Schubmehl; and her brother Jim "Al" Hargrave. She is
survived by her children: David (Mary Ann) Schubmehl, of Delmar; Thomas (Cindy) Schubmehl, of Corfu; Peter (Kara) Schubmehl, of Delmar; Marybeth (Rodney) Renn of Ossian; and daughter- in-law Linda Schubmehl, of Wayland. She is also survived by 13 grandchildren and 7 great grandchildren; her siblings, Joyce Wolfanger Seigfred, of Rochester; Robert (Carol) Hargrave of Rocky Mount, NC; and sister-in-law Shirley Hargrave, of Wayland; and many nieces and nephews.
Ann's family and friends may call Thursday, July 14, 2022 from 4-7 pm at St. George-Forsythe Funeral Home, 109 West Naples St., Wayland. A Mass of Christian Burial will be celebrated for
Ann on Friday, July 15, 2022 at 10 am at St. Joseph's Church, 206 Fremont St., Wayland. Committal prayers and interment will take place immediately following at Sacred Heart Cemetery in Perkinsville. There will be a luncheon provided at the Perkinsville Fire Dept. by the Ladies Auxiliary.