July 18, 2022 - 12:14pm
Leona M. Pastore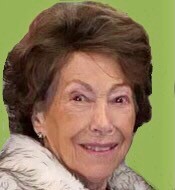 After a journey of 94 years as a loving wife, mother, grandmother, great-grandmother, aunt and friend, Leona M. Pastore passed away peacefully Sunday February 6, 2022 surrounded by her loving family.

Born December 21, 1927 in Batavia, Leona is predeceased by her husband of 70 years; Philip P. Pastore Jr.; her parents Leo and Mary (Fabio) Azzi; in-laws Mr. & Mrs. Philip Pastore Sr.; brother Charles Azzi; sisters Veronica Martin, Matilda Syracuse, Barbara Leone and great-granddaughter Delilah Rae Graham.

She is survived by her six children; Michael (Nancy) Pastore of Key West, FL., Paulette Pontillo of North Palm Beach, FL., Georgeann (David) Hartman of Nashville, TN., Phyllis (Timothy) Beers Sr. of Denver, CO., Patricia Olverd of Richmond Hill, GA, Vincent (Kayleen) Pastore of Le Roy; Aunt Lena Pastore of FL.; sister Virginia Bass of CA; grandchildren Micah Pastore, Timothy (Gretchen) Pastore, Alysia (David) Thibault, Jamie Wortzman, Tony Pontillo, Philip Pontillo, Gary Call Hanley, Timothy (Sara) Beers Jr., Georgia Lee (Marc) Graham, Jessica (David) Blum, Ashley (Jared) Parkey and David Olverd Jr. along with several great-grandchildren, nieces and nephews.

Leona's favorite quote was "Life is a Song, Love is the Music". Her love of music began at the age of seven in a performance of "The Little Drummer Boy" and at eleven years of age she joined the St. Anthony's Senior Choir, becoming a soloist performing at all church functions. In her senior year she became the soloist with The Choristers of Rochester Civic Orchestra, where she sang for multiple organizations, churches and functions throughout the state.

After graduation from High School she went on to study at the Eastman School of Music in Rochester, N.Y. where she majored in voice. Upon finishing college, she married her husband and began raising her family, all while remaining active in her church and St. Anthony's School, where she became President of the PTA. Continuing with her love of music she became the guest soloist for the Genesee Symphony, produced and performed on WBTA Radio with her own show, was the soloist for the "Genesee Choral" and "Ars Nova Singers". She also became an organist for St. Anthony's Church and appeared in many Rotary Club Broadway local productions, Brigadoon, Mame, Camelot, Sound of Music and others.

She became involved with the Genesee Symphony Orchestra and served on the board for many years also becoming the Historian from 2003-2013 and chaired the Diamond Jubilee 60th Anniversary. Leona was recognized as an outstanding Italian American by the Paolo Busti Foundation for her accomplishments in music and was associated with the author John Gardner Society and a member of the Holland Land Office.
"Life is a Song, Love is the Music"

Friends and family are invited to attend a 10:00AM Mass of Christian Burial on Saturday July 23, 2022 at Resurrection Parish 303 East Main St. in Batavia.

In lieu of flowers, memorials may be made to Crossroads House www.crossroadshouse.com PO Box 403 Batavia, NY 14021 or the Genesee Symphony Orchestra, GSO PO Box 391 Batavia, NY 14021. To leave thoughts or condolences please visit www.gilmartinfuneralhome.com. Arrangements completed by Gilmartin Funeral Home & Cremation Company, Inc. 329-333 West Main Street Batavia, NY 14020.