July 22, 2022 - 2:24pm
Ardyth Van Valkenburg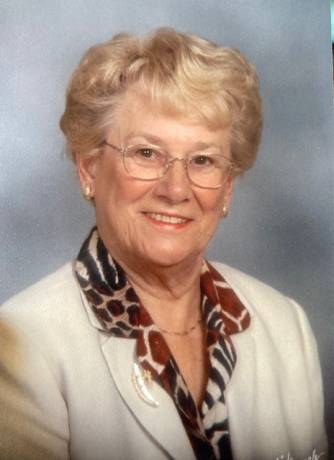 Ardyth "Ardy" (Suess) Van Valkenburg, 94, passed away peacefully on July 20, 2022 at United Memorial Medical Center in Batavia. She was born in Attica, NY on February 6, 1928 to parents Arthur Suess and Delia Seufert. She was married to her great love Irving S. Van Valkenburg from April 30th, 1949 until his death in 1991.
She is survived by her three children, Beth (Charles) Mullen of Rochester, Lee Van Valkenburg of Attica, and Peter Van Valkenburg of Florida. Grandchildren Jeffrey (Jill) Mullen, Michelle (Christopher) Dick, Kelly (Luke) Sementino and Megan (Brian) Pisula and 12 great grandchildren who were the light of her life. She is also survived by her sister Natalie Slocum and many nieces, nephews and the Mullen extended family.
Ardy graduated from Attica High School in 1945. She was the oldest and longest member of St. Paul's United Church of Christ where she was confirmed in 1940 and worked many years on their Sauerkraut Supper. She was also a member of Attica Golf Club, American Legion Harder-O'Donnell Post #734 Auxiliary, Attica Historical Society, and Attica Landmark Society.
Ardy is predeceased by her parents, brothers Arthur, Norman, Irving, Robert, Richard, sisters Janet Riley, Muriel Willard, Lorraine Kirkpatrick, Mary Lou (Poochie) Edwards and her good friend James Beitz.
Ardy worked at Westinghouse, Markin Tubing and Attica Penny Saver. She loved her large family, friends, golf and crossword puzzles. She was a role model for all that knew her as she always put others ahead of herself. Her and Ike loved to spend much time in Florida visiting their sons and friends. She was the best sister, mother, aunt, grandmother and great grandmother that anyone could hope for.
A 10:30AM Celebration of her Life will be held at St. Paul's United Church of Christ, 11 Washington Street in Attica, NY 14011 on Thursday, July 28, 2022. She will be laid to rest in Forest Hill Cemetery, Attica.
In lieu of flowers, memorials can be made out to St. Paul's United Church of Christ or to Attica Ambulance, 11 Water Street, Attica, NY 14011. To leave a message of condolence please visit www.marleyfuneralhome.com. Arrangements completed by Marley Funeral Home, LLC, 135 Main Street, Attica, New York 14011.