Image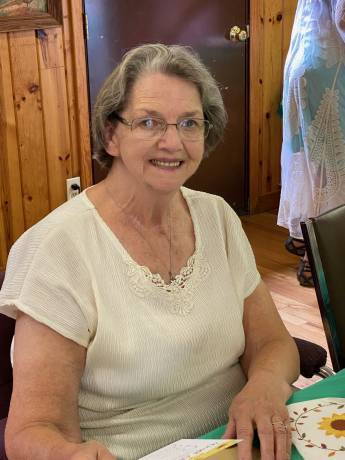 Byron- Carol Grace (nee: Mooney) Stamp, age 83 of Byron, died Monday July 25, 2022 at United Memorial Medical Center surrounded by her children. A devoted wife & mother of 7, grandmother of 15, & great-grandmother to 1, she was passionate about spending time with her family more than anything.  Carol was the adored anchor to her extended family, staying connected was always her goal. She was a valued member of the Byron Presbyterian Church.  Being a strong woman of faith, she was a Prayer Warrior for anyone in need, always putting others before herself. Carol was a retired home-health care aide, where she found her calling in serving elders with the Genesee Orleans Homemakers Inc.  She then came out of retirement to share her expertise of child care by working with infants at a local daycare center.  In her "spare time," she also enjoyed gardening, music, multiple pets, and her dear neighbors.
Devoted mother of Mitchell (Michele) Stamp, Michael (Diane) Stamp, Lori J. (Keith) Pafk, Brian (Dawn) Stamp, Lisa J. (Michael) Warner, Darin Stamp, Lanette Janene "Jeanie" (Todd) Sloat, and a dear friend and caregiver, Susan Carpenter; beloved grandmother of Jayme (Nick) Martell, Erin, Sean, Adrienne, Paul (Brittany), Leah (James Halsey) and Billirich Stamp; Neil (Zoe Whitehurst) and Kyle (Jessica Hall) Pafk; Michael, Matthew (Sammy) and William (Olivia Nucetelli) Warner; Jordan and Lacey J. (Dave Stishan) Sloat, Larisa J. (Matthew) Chiverton; loving great-grandmother of Maci Sue Martell; dear sister of Jerald (Sue) Mooney; sister-in-law of Florence Mooney, and aunt to many nieces, nephews and great-nieces and great-nephews.
Carol is predeceased by her husband, Nelson N. Stamp, who died January 2, 2013; her parents, William H. and Pearl E. Mooney; her brothers, William (Deloris "Pete"), Richard "Jack," (Irma) Edmund (Geraldine), Fredrick, and Jerome Mooney; and a daughter-in-law, Deborah Stamp.
Friends and family may call Friday from 5-8 PM at the H.E. Turner & Co., Inc. 403 East Main Street, Batavia. A Memorial Service will be held on Saturday at 11AM at the Byron Presbyterian Church, 6293 West Main Street, Byron, NY 14422, with the Rev. James Renfrew, officiating. A light reception will follow services in the church fellowship hall which is handicap accessible. Burial will be private in the North Byron Cemetery. Memorials may be made to the Byron Presbyterian Church, P.O. Box 206, Byron, New York 14422. Please leave a condolence, share a story, or light a candle at www.bataviafuneralhomes.com.