August 2, 2022 - 11:16am
George V. Voss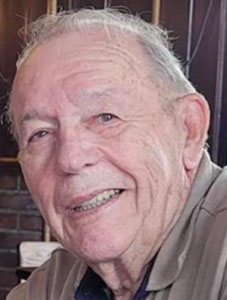 George V. Voss, of Terrell Texas, formally of West Batavia, died Sunday, July 31 st 2022.
Born in Racine Wisconsin September 15 th , 1933, son of the late Helen and Bill Voss. George was a Navy Veteran for 4 years serving in the Korean War as a photographer. After being discharged he took his skills to Batavia, where he met his wife Virginia, and started his photography career at The Batavia Daily News. He was employed there for over 30 years, and they settled on a small farm in West Batavia to raise their family of 5 children.
His passion for photography, hunting, fishing, and traveling were his favorite pastimes. Not being a big fan of the Western N.Y. winters, they moved to Terrel, Texas in 1980, where he is a member of the Poetry Methodist Church and a member of the American Legion. With the help of 3 sons he built a log home and continued in his small farming hobby where bush-hogging his 46 acre ranch was prime time.
He is survived by his wife of 65 years Virginia (nee Walbridge); father of Pamela Chatt, Gregory (Debbie) Voss, Mike Voss, Mark (Cathy) Voss, Scott (Lisa) Voss. Also survived by 10 grandchildren and 8 great grandchildren.
Visiting hours will be at the C. B. Beach & Son Mortuary, Inc., 4 East Main Street, Corfu, N.Y. on Saturday, August 6th from 3 to 5 p.m.
Burial with full military honors will take place in Poetry, Texas at a later date.