August 3, 2022 - 11:22am
Jeremy R. Gabbey Sr.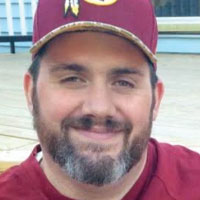 Jeremy R. Gabbey Sr., 39 of Pembroke.
Jeremy was born in Batavia, NY on August 26, 1982, son of Guy and Elizabeth Gabbey.

Loving husband to Allison Gabbey (nee Winch) and proud father and best friend to Jeremy R. Gabbey Jr. He was the light of their lives. Jeremy is survived by parents Guy and Elizabeth Gabbey of Corfu; brother Guy (Joanna) Gabbey of Springville; brother Andrew (Erika) Gabbey of Pembroke. Father and Mother-in-Law Neil and Pamela Winch of Strykersville; sisters-in-law Kara (Aaron) Otto of Virginia, and Molly (Dane) Flavin of Piffard. Also survived by beloved nieces and nephews, aunts and uncles and many cousins and treasured friends.

Jeremy was employed by the U.S Department of treasury. He attended Brockport State College where he won the Lambert Cup with his team and will be inducted into the Brockport Hall of fame in October.
Jeremy was a devoted family man. He was a wonderful husband, dad, son, brother and uncle. He adored his wife Allison and was a hero to his son Jeremy Jr. He prided himself on never missing even one of JJ's numerous sporting events. He was known to the community as a man of honor and will be missed tremendously.
The family will receive friends from 2pm-4pm and 6pm-8pm on Friday, August 5th at High Point Church at 1163 Main Rd Corfu NY, 14036. Funeral Services will be Saturday, August 6th at 11am also at High Point Church. Internment will be at Evergreen Cemetery in Corfu.

In lieu of flowers, expressions of sympathy may be made to Allison Gabbey. A "Jeremy Gabbey Sr. Athletic Scholarship' will be created in Jeremy's honor at his alma mater Pembroke Central School. Arrangements by Ross Funeral Home of Akron, LLC. Please visit rossakron.com.