Image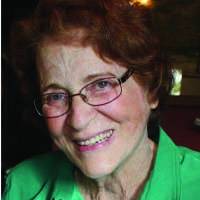 Jacksonville, FL - It is with great sadness that we announce the passing of Marjorie Romero, lovingly known to her family as Mom, Nana, Aunt Margie, and Sis. Marjorie passed away peacefully on the morning of July 29th in the company of her family.
Born to Bernard and Henrietta Romesser on January 7, 1947 in Warsaw, NY. Marjorie grew up on a family farm as one of six siblings. She was an avid reader that enjoyed playing games with siblings, walking in nature, and managing her family's comic book library.
Marjorie was a born nurturer and enjoyed caring for her younger siblings and cousins. That caring nature brought her to nursing school in Buffalo, NY, where she met and fell in love with her husband, Renato Romero. They married on May 18, 1969. Together they grew their family raising four wonderful children and many beloved pets.
Exceptionally thoughtful and patient, Marjorie spent her life as a guiding light to her family and friends. She was always there to listen and support loved ones. Marjorie's life philosophy emphasized benevolence and ensuring all feel welcome. She will be remembered for a lifetime of warmth, kindness and generosity, whose reverberations will continue to be felt for generations to come.
Her love of children and families led her to further her studies and get an advanced degree in psychology. She spent her career providing mental health care for children and mentoring new therapists. Her sweet voice, playful demeanor, and trustworthiness were a gift for those that she served.
Upon her retirement, her grandchildren became her greatest source of joy and devotion. She doted on all her grandchildren with the gifts of time, support, enthusiasm, adventures, listening ears, a shoulder to cry on, and generous hugs. She spent her free time learning new crafts, hosting relatives and friends for visits,
 playing (and winning) card games, and keeping in touch with kin and friends. She continued to listen and support the village built around her incredible nurturing spirit.
Marjorie is survived by her loving husband, Renato Romero, and her children Marcos (Sita) Romero of Glen Allen, VA, Neri Romero of St. John's, FL, Tifinni (Kendall) Romero of Jacksonville Beach, FL, and Dino Romero of Miami, FL; her beloved grandchildren: Caitie, Theo, Rhys, Zinny, Jeremy, Maya, Nathan, Taban, Kamdyn, Kailyr, and Michael; her siblings Patricia Perl of Palmyra, NY, Thomas (Mary Ann) Romesser of Rancho Mission Viejo, CA, and Diane (George) Petrotta of Fairport, NY; Sister-in-law Linda Mascetti (Joseph) of Sun City Center, FL and Brother-in-law James Youngers (Sarah) of Arcade, NY; many nieces and nephews and their children.
She is predeceased by her parents; siblings Joseph Romesser and Sarah Jane Youngers; her mother in law, Maria del Valle, and her grandchild, Xavier Wyche.
No prior calling hours. A Funeral Mass will be held Saturday, August 6th, 2022 at 11:00am at Assumption Catholic Church, 2503 Atlantic Boulevard, Jacksonville, FL 32207 with a reception to follow at Kohl Hall. In lieu of flowers, contributions may be made to Friends of the Jacksonville Library.