Image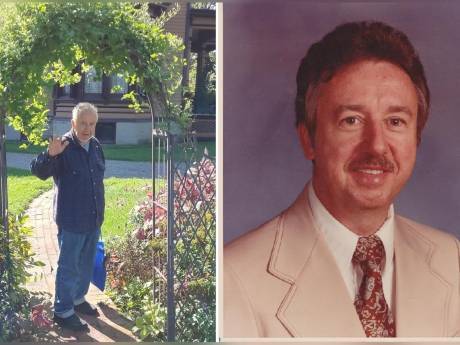 Our beloved "Pa", Harold Rager, entered into God's Kingdom on August 02, 2022. His passing was very sudden and was due to heart failure. He is survived by his daughter, Heather Rager Bowman, his son in law, Timothy Bowman, and six grandchildren.
A service will be held for family and friends at H.E. Turner Funeral Home in Bergen, NY. The gathering will begin at 5 pm on Friday, August 12, with a service at 6 pm to include military honors and a flag ceremony.
Harold was born to Howard and Margaret Rager on May 24, 1938, in Johnstown, PA. After graduating from Franklin high school, he spent a few years in the Navy, serving during the Korean War in Morocco. Harold met Barbara Ann Colas at her father's church, a match truly made in Heaven. Harold & Barbara would have twin boys, but the babies died while only two weeks old. They went on to have a daughter three years later, Heather. Harold served the Lord faithfully as a teacher in Christian schools for many years, when he lived in Maryland. At different times, he taught high school French, middle school math, Drama, English, and sixth grade. Harold was a loyal servant of God, first and foremost. He loved the church and loved sharing the love and warmth of our savior, Jesus Christ, through his gift of song. He loved to play the piano and sing. He sang in church and community choirs most of his life. He was a part of the local community choir in New York, the Sweden Singers, and was involved in church wherever he lived. He enjoyed gardening, reading, and cooking, especially for his family, but for whoever came through his door. Harold joins Barbara in Heaven, who passed in September of 2021 after a battle with pancreatic cancer. His kind and gentle presence, his enduring humor, and his true love for the Lord have been far-reaching blessings to those who knew him, but especially to his family. His heart may have stopped, but it was a great heart, and his love does not stop. He will be missed greatly until the Lord returns, or we join him with our Savior.
"But I do not want you to be ignorant, brethren, concerning those who have fallen asleep, lest you sorrow as others who have no hope. For if we believe that Jesus died and rose again, even so God will bring with Him those who sleep in Jesus.
For this we say to you by the word of the Lord, that we who are alive and remain until the coming of the Lord will by no means precede those who are asleep. For the Lord Himself will descend from heaven with a shout, with the voice of an archangel, and with the trumpet of God. And the dead in Christ will rise first.
Then we who are alive and remain shall be caught up together with them in the clouds to meet the Lord in the air. And thus we shall always be with the Lord. Therefore comfort one another with these words." (I Thessalonians 4:13-18).
Please leave a condolence, share a story, or light a candle at www.bataviafuneralhomes.com.