August 16, 2022 - 1:01pm
Burton R. Manley
posted by
LaVern Falcone
.
LeRoy ~ Burton R. Manley, age 77, of Warsaw Road, passed away at home Monday afternoon (August 15, 2022) in the loving presence of his family.
He was born December 30, 1944 in Rochester, NY, a son of the late Gilbert and Ruby Smith Manley.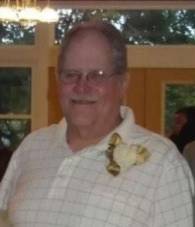 Burt will be remembered as a loving and devoted husband, father, grandfather, brother, uncle and dear friend to many. He loved camping, fishing, the outdoors, woodworking and riding in Gypsy the golfcart at Southwoods Campground.
He worked for Huther Brothers Saw Manufacturing Company in Rochester as an Anvil Man for 42 years prior to his retirement. Burt was one of the founding fathers and lifetime member of LeRoy Volunteer Ambulance, where he was a first aid instructor. He was a former member of the LeRoy Moose Family Center and LeRoy Fire Dept. Auxiliary and was a current member of the LeRoy Fire Dept. Fire Police and the Excelsior Hook & Ladder Co.
Burt will be sadly missed by his loving wife of 57 years, Josephine Campesi Manley; his children, Wendy (John) Johnson and Brian (Jennifer) Manley; grandchildren, Jennifer (Scott) Pellett, Craig (Lindsey) Johnson, Alexandra Manley and Briannah Birch; great-grandchildren, Ellison Pellett and Josie Pellett; brothers, Donald (Jeanne) Manley and Earl (Diane) Manley; sisters-in-law, Joyce Manley and Barbara Manley, along with many nieces and nephews.
In addition to his parents, he was predeceased by his daughter, Amy Manley; siblings, Albert Manley, Elizabeth (Donald) Boughner, Charles Manley, Floyd (Sandra) Manley, Genevieve Manley and mother-in-law and father-in-law, Augustine and Sarah Andolora Campesi.
Family and friends may call on Thursday, August 18 from 4 ~ 8 PM at the Falcone Family Funeral & Cremation Service Inc., 8700 Lake Rd. (Rt. 19), LeRoy, where his funeral service will be held on Friday, August 19 at 11:00 AM. Private interment to follow in St. Francis Cemetery.
Memorials may be made to Burt's family for distribution to charities of their choice.
Your memories and condolences may be shared with Burt's family at www.falconefuneralhome.com.