August 16, 2022 - 1:29pm
Sarah Southcott
posted by
LaVern Falcone
.
On Friday August 12th, Sarah Southcott, Loving Wife and Mother of Three children, of Perry, NY passed away at age 43.
Sarah was born on October 9th 1978, in Rochester, NY to Brian and Donna (Heaman) Clark. She grew up and attended school in LeRoy, NY. On September 22 2001, she married Jeremy Southcott. They raised one son, Clark and two daughters, Sally and Jane.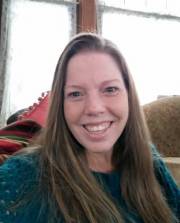 Sarah was the most loving and caring mother. She was a truly genuine friend to all that met her. Her passion for happiness was only surpassed by her love for her children. She enjoyed sitting on the beach building sand castles with the kids while living in Georgia, and playing in the snow building snowmen while living in New York. Her smile would light up a bottomless pit, and her language was not for the faint of heart, but she never judged a soul and always had an embrace for any that needed one. The love between her and her husband was pure and true. They were inseparable from the day they met. Family was her highest priority, and as the baby of six she loved a full house. When times got hard it was all "easy peasy". She was and will always be our Cutie Pie.
Sarah was preceded in death by her daughter, Sadie. Sarah is survived by her Husband, Jeremy, Son, Clark (Mariah), Daughters, Sally and Jane, Parents, Brian and Donna Clark, Sister, Deborah (Eric) Kinney, Brothers, Michael (Catherine), Patrick (Tracey), Mathew (Alicia), and Josh (Margarita) Clark, and several cousins, nieces and nephews.
The world will be a little duller without her bright smile and giving heart... In lieu of flowers, her family is asking that donations be made to Sully and the Ladies in Pink, 9605 Nunda-Dalton Rd., Dalton, N.Y. 14836.
Family and friends may call on Friday, August 19 from 4 ~ 8 PM at the Falcone Family Funeral & Cremation Service Inc., 8700 Lake Rd. (Rt. 19), LeRoy with her Funeral Mass to be held on Saturday, August 20 at 11:00 AM at Our Lady of Mercy Parish, St. Peter's Church, 44 Lake St., LeRoy.
Your memories and condolences may be shared with Sarah's family at www.falconefuneralhome.com.