August 21, 2022 - 8:55pm
James Robert Worthington
posted by
LaVern Falcone
.
February 20, 1968 – August 19, 2022
James Robert Worthington, age 54, of Pavilion, NY, passed away suddenly on Friday, August 19 after sustaining injuries from a motor vehicle accident.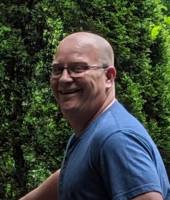 He is survived by his beloved wife, Debby (Loveland) and his son, Matt; step-mother Nancy (Charles) Slaven; brothers and sisters, Dale (Cathy) Worthington, Jeffery (Kimberly) Worthington, Gloria (Roger) Smith, Dawn (Wilber) Gray, Brenda (James) Alvut, Lisa (Thomas) Partridge, Daniel (Leslie) Johnston, David (Dawn) Johnston, Charles (Leanne) Johnston, Robert (Judy) Johnston, Steven (Cindi) Johnston, Sheryl (Greg) Schultz, Sandra (Richard) Kosciolek, Pamela (Rance) Choate, Yvonne Ortiz, Patricia Boots, Shelia (late Anthony) Colombo, Stephen (Carla) Earle, Jason (Shannon) Earle, sister-in-law Kathy (late Douglas) Johnston; several nieces and nephews.
     Jim is predeceased by his parents Loren Worthington, Dorothy (Robert) Johnston; brother Douglas Johnston; sister, Sheila Morse; niece, Nicole Gerold and great-nephew, Collin Crane.
     Jim loved his family fiercely and adored spending his free time with them. Together, they enjoyed camping, traveling and going out to eat. He enjoyed watching the Buffalo Bills and Buffalo Sabres play. Jim was an avid Candy Crush player.  He liked cracking jokes and making everyone around him laugh.
     He worked for over 30 years at Chapin International in Batavia, NY.
     Friends and family may call on Thursday, August 25, 2022 from 1 ~ 3 PM at the Falcone Family Funeral & Cremation Service Inc., 8700 Lake St. Rd., LeRoy, NY. There will be a reception to follow at 4 PM at the Pavilion Fire Hall, 11302 Lake St., Pavilion.
     Memorials are suggested to either Arc GLOW, 64 Walnut St., Batavia, NY 14020 or the Pavilion Fire Dept., P O Box 156, Pavilion, NY  14525 
     Your memories and condolences may be shared with Jim's family at www.falconefuneralhome.com.