August 22, 2022 - 8:15am
Donald F. McCulloch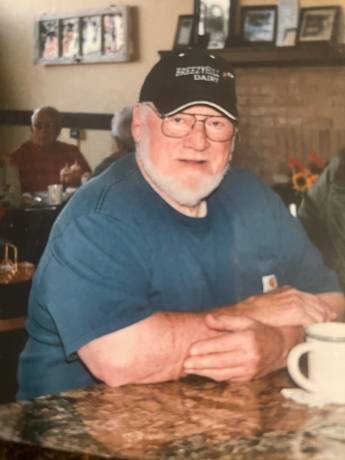 Donald Frederick McCulloch, 83, of Attica, died on Tuesday, August 16, 2022, surrounded by those he held most dear (missing a few). He peacefully fell asleep trusting in Jesus and the promise of Heaven. Don, also known as MC, Donny by his cousins, or Grandpa Cookie by his great grandchildren, was the oldest of two children born to the late Thomas and Thelma (Lang) McCulloch on September 18, 1983, in Buffalo, NY.
His family moved from Buffalo to Bennington as a young boy, and he quickly fell in love with farming. Don graduated from Attica High School in 1956. He was married to the late Darralee Roberts, better known as "Cookie", on June 11, 1959 for 61 years.
Don was proud of the fact that he helped build the Niagara Power Plant. He worked for Frontier Trucking, was a service manager at Chevy in Attica, until starting at the Attica Prison in 1974 as an Autobody Vocational Instructor for 29 years. He retired in 2003. He ran his own business on the side, plowing snow up until this past year. His real passion came after he retired from the prison. He spent the last 19 years driving big truck for BreezyHill farm and running for parts. He will be remembered for always having a big smile on his face and a great laugh.
When he wasn't working, he loved to ride motorcycle with Cookie. Their adventures took them as far as Alaska and Nova Scotia. MC spent the early 1970's until 1983 coaching AYA football. He also enjoyed throwing horseshoes, golfing, playing cards, bowling, snowmobiling and going to camp in the Adirondacks.
Surviving are his children, Debra (Roger) Almeter of Sheldon, Scott (Michelle) McCulloch of Attica, and Todd McCulloch of Attica. He was proud of his grandchildren, Brad (Carolyn) Almeter, Jared (Michele) Almeter, Adam (Amanda) Almeter, Melinda (Jeremy) Meyer, Natalie (James) Flint, Courtney (Derek) Wolfley, Megan McCulloch, Cassandra McCulloch and Nick, and Hunter McCulloch. Also surviving is Don's sister Shirley McCulloch Loefke of Hamburg, sister-in-law Mary Jane Roberts of Attica, Michelle Carr and Frank of Arizona, Yvone (Rex) Bishop of Colorado, Linda Roberts of Michigan, and Barb Roberts of Batavia, and brother-in-law Gene Limpinsel of Elma. As well as 17 great grandchildren, and many nieces & nephews.
A memorial service will be held at Graceful Gatherings, 2300 Gassman Rd, Varysburg, NY 14167, on Friday, August 26, 2022. Beginning promptly at 3:00PM, followed by visiting and refreshments until 6:00PM. He will be laid to rest at Forest Hill Cemetery in Attica.
In lieu of flowers, memorials can be made to the Attica Fire Department, 11 Water St, Attica, NY 14011, or Attica Youth Athletics, 84 Exchange St, P.O. Box 14, Attica, NY 14011. To leave a message of condolence please visit www.marleyfuneralhome.com. Arrangements completed by Marley Funeral Home, LLC, 135 Main Street, Attica, New York 14011.