August 25, 2022 - 7:23am
Donald Zinni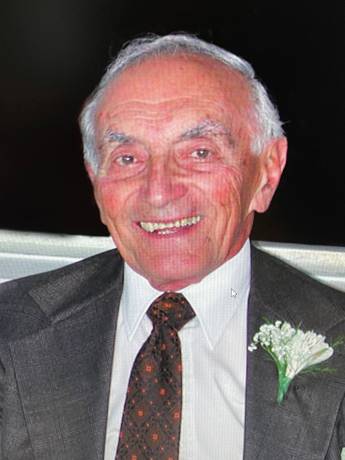 One of Batavia's oldest and proudest residents passed away on August 23, 2022 at the age of 100. Donald (Dan, Don) Zinni was born at home, on June 7, 1922, in Batavia, New York. He was the first-born child to an Italian immigrant father (Dominic Zinni) and a first-generation Italian-American mother (Mary Dispenza Zinni). Dan, as his family called him, grew up with his two brothers and two sisters.
In his younger years, Dan played basketball in a YMCA league and enjoyed horseback riding. His first job was working as a pin boy at Mancuso's Bowling Alley when he was 15 years old. Dan graduated from Batavia High School in 1939 and the Batavia Metal Trade School in 1941. Because of his machinist and tool and die maker skills, he was soon hired at Curtis Wright in Buffalo. Curtis Wright made aircraft used in WWII, thus Dan was initially deferred from the draft as his skills were needed in supplying aircraft for the military. However, in 1943 he was drafted into the Army Air Corp. Dan served in various airfields across the U.S. and inspected, serviced, and repaired hydraulic systems used to actuate landing gear on B-24's and C-47's. Dan was honorably discharged as the war was ending in 1946. 
Shortly thereafter, Dan met the love of his life, Lydia, at a dude ranch. Since Lydia lived in New York City, it was a true illustration of his love for her that he drove eight hours on many weekends to take her out. They were married in 1950 and settled in Batavia – a place Dan never wanted to move from. There they raised three daughters. He worked for many years as a model maker at Xerox and was a faithful member of St. Anthony's Catholic Church (now Ascension Parish).
Dan was entirely devoted to his family and took them on many summer road trips across the U.S. and Canada. After retiring from Xerox, Dan and Lydia continued to enjoy traveling, including trips to Europe, Australia, New Zealand, the Caribbean, most Canadian provinces, and most U.S. states, including Alaska and Hawaii. He was also a proud grandfather and loved spending time with his seven grandchildren and eight great-grandchildren. They will remember him for his unequaled blueberry pancakes, his entertaining ear-wiggling, his passion for food, music, golf, and the Buffalo Bills, and, above all, his generosity and unconditional love.
During his 100th birthday celebration in June, he attributed his longevity to healthy eating and keeping active. Most importantly, he said the secret to a long life is "Lots of LOVE."
Dan was predeceased by his wife, Lydia; his parents; his brothers, Joseph and John Zinni; and his sister Frances Massar. He will be missed by his sister, Rose Marie Szadek; daughters and son-in-laws, Lynne and John Stager, Virginia and Charles Reist, and Paula and Terry Reeger; grandchildren, Erik Reeger, Danielle (Scott) Dallas, Kevin Stager, Erin (Andrew) Katzman, Maria Stager (Nathan Senner), Rachel Reist, and Harland (Andrea) Reist; great-grandchildren; and many nieces and nephews.
There will be no prior calling hours. An 11:00AM  Mass of Christian Burial will be held Monday, August 29, 2022 at Ascension Parish, 19 Sumner St., Batavia.
In lieu of flowers, contributions may be made to the Sisters of Mercy, 625 Abbott Rd., Buffalo, NY 14220. For more information please call (585) 343-8260 or to sign a message of condolence please visit www.gilmartinfuneralhome.com. Arrangements completed by Gilmartin Funeral Home & Cremation Company, Inc. 329-333 West Main Street Batavia, New York 14020.