September 6, 2022 - 1:12pm
Stella G. Peck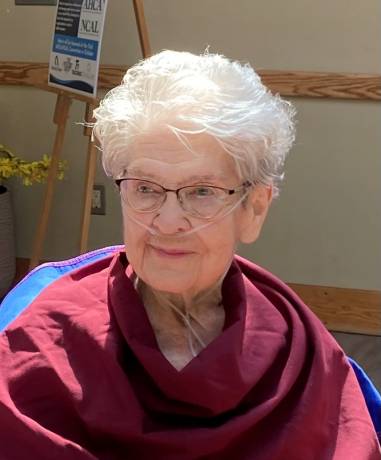 Stella May Peck, 95 of Alexander, passed away on Monday, September 5, 2022 at Seneca Health Care. She was born January 29, 1927 in Alexander to the late Harold and Joy (Wight) Goodman. She is preceded in death by her beloved husband, Robert Loren Peck, brother Kenneth Goodman, sister Lillian Bowen and two daughters, Rosemary and Barbara.
Mrs. Peck retired from Alexander Central School in 1997 where she worked in the cafeteria. She was a member of the Alexander Grange, the Western New York Gas and Steam Engine Association and was a past member of the Alexander Ladies' Auxiliary. She was a member of the Mother Church of Christian Science in Boston, Massachusetts.
She is survived by her loving children; Roger (Jennie) Peck of Elma, David Peck of Silverton, OR; sisters, Irene Johncox of Clarence Center, Louise Post of Elba, 4 grandchildren, 5 great-grandchildren along with many nieces and nephews.
Friends are invited to call on Thursday, September 8, 2022 from 4 to 7pm at Marley Funeral Home, LLC, 135 Main St, Attica, NY 14011. An 11:00am Celebration of her Life will be held on Friday, September 9, 2022 at the Funeral Home. She will be laid to rest in Mt. Pleasant Cemetery, Alexander.         
In lieu of flowers, memorials may be made to the donor's choice. To leave a message of condolence please visit www.marleyfuneralhome.com. Arrangements completed by Marley Funeral Home, LLC, 135 Main Street, Attica, New York 14011.