September 6, 2022 - 1:20pm
Elizabeth A. Forti (Betty)
posted by
LaVern Falcone
.
LeRoy ~ Elizabeth A. Forti (Betty) was embraced into the loving arms of the deceased members of her family on September 2, 2022, at the Le Roy Village Green.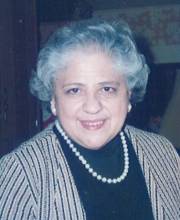 Betty was the daughter of Michaelangelo and Rose Corcimiglia Forti. Born in 1927, she was the youngest of 8 siblings, all of whom have passed before her. They include brothers, Dr. John Forti (Adelyn) of Saint Louis, Joseph (Eileen) Forti of Batavia, Anthony (Minnie) Forti of Batavia, Sam (Sara) Forti of Oakfield, and Ned (Grace) Forti of Saint Louis. Sisters include, Carmella Forti of Le Roy, Sister Mary Camilla of Buffalo, and Lena (Peter) Macaluso of Le Roy. Survivors include sister-in-law, Grace Forti, many nieces and nephews, and her puppy, Angel.
     At the tender age of five, Betty's Mom passed away. She helped with the family grocery store and often told the story of how she would make bread for her Daddy's return home from work. She worked as a secretary for the LeRoy Bottling works on Mill Street and various other secretarial jobs. However, she most enjoyed her career as a private home care aide for fellow LeRoyans even into her 80s! Betty's nieces and nephews would surely agree that she is most famous for her homemade pizza ~ the best in town.
     Betty will always be remembered as a faith-filled loving person, who put others first. She was a proud member of St. Joseph's Church and Our Lady of Mercy Parish in LeRoy. In addition, she was an active member of Our Lady of Charity and The Third Order. Betty also helped with the collection counting and enjoyed morning coffee at McDonalds with friends after attending weekday Mass. As an active volunteer at the Le Roy Village Green, Betty helped with bingo and visited the residents. She will be missed by all those who love her dearly.
     Family and friends may call on Friday, Sept. 9 from 4 ~ 6 PM at the Falcone Family Funeral & Cremation Service Inc., 8700 Lake St. Rd., LeRoy.  Her Rite of Christian Burial will be held on Saturday, Sept. 10 at 11:00 AM at Our Lady of Mercy Parish, St. Peter's Church, 44 Lake St., LeRoy. Private interment in St. Francis Cemetery.
     Contributions in memory of Betty may be made to 716PAWS, 368 Darwin Dr., Amherst, NY 14226 or to the Mother Teresa Outreach Program of Our Lady of Mercy Parish, 44 Lake St., LeRoy, NY 14482.
     Your memories and condolences may be shared with Betty's family at www.falconefuneralhome.com.