September 16, 2022 - 9:35am
Elizabeth M. Dick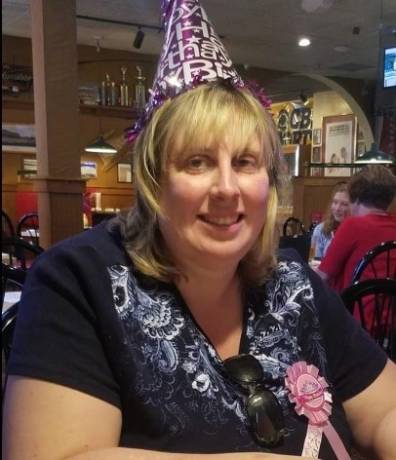 Liz Dick passed away on Tuesday September 13, 2022 in Rochester, NY at the age of 45. She was born to Gregory Dick and Karen Balkwill-Dick on July 2, 1977. She is predeceased by her father Gregory Dick, her grandparents Genny and Larry Balkwill; her Grandmother Helen Johnson and many beloved pets.  
Liz went to Batavia High School; she then earned her Bachelor's Degree from SUNY Brockport and later completed her Master's degree. Liz was employed with National General Insurance as an Associate Manager of Claims. Liz has worked in the Insurance industry for over twenty years. Liz enjoyed Reading, Diamond Art, watching TV/movies with friends as well as the Arts. Liz loved to travel including cruises, going to Disney, as well as going on local wine tours. Liz' ability to touch someone's soul was endless, she was a friend to many and was happy to do anything if it was with those she loved. She was a generous and thoughtful person who loved finding and giving someone the perfect gift.  Liz loved animals from the deepest part of her heart, she was known for rescuing many kinds of four-legged friends. Liz has volunteered her time and resources to various animal organizations over the years. Liz brought people together with her love of trivia, both hosting and playing.  She has played Euchre with friends for over 20 years. Liz was a member of the International Order of Rainbow for Girls until she was 21.
Survivors include her mother Karen Balkwill-Dick; her niece Felicity Dick; her best friend Stephanie Norton, her godchildren Trey Nielsen and Abby Nielsen; her best friend Rachel Coughlin; her best friend Billie Lape; and many, many other friends and relatives.  Also left behind are her faithful four-legged kids Cooper, Penny, Chewy, and Comet.
Family and friends are invited to call on Tuesday September 20, 2022 from 4:00-7:00PM at Gilmartin Funeral Home & Cremation Co. Inc. 329-333 West Main St. Batavia, NY 14020. The Funeral Service will be held at the Funeral Home on Wednesday September 21, 2022 at 11:00AM. Liz will be laid to rest in Grandview Cemetery on Clinton Street Rd. in Batavia.
In lieu of flowers, memorials may be made to the Genesee County Animal Shelter 3841 West Main St. Rd. Batavia, New York 14020. To leave a message of condolence please visit www.gilmartinfuneralhome.com or for more information call 585-343-8260. Arrangements completed by Gilmartin Funeral Home & Cremation Company, Inc, 329-333 West Main Street, Batavia, NY 14020.