September 20, 2022 - 5:28pm
Jane L. Garrett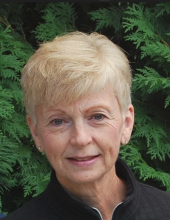 Jane L. Garrett, age 73 of Avon, NY passed away on Sunday September 18, 2022 at Strong Memorial Hospital in Rochester after injuries suffered from an automobile accident. She was born on August 1, 1949 in Warsaw, NY a daughter to the late Frederick S. "Cookie" and Janet L. (Cornwell) Cook.
Jane was a 1967 graduate of Perry Central High School and later graduated from Monroe County Community College. She worked in the banking field for Bank of Castile, Central Trust and lastly M&T Bank retiring in 2012. She was a past member of the First United Methodist Church in Perry and a current member of the Geneseo United Methodist Church, where she was active in the United Methodist Women, was a long time member of the Praise Team, the senior Choir and held an officer postion at the church, York Quilt Guild where she held an officer postion and was a past member of the Irondequoit Kiwanis Club where she was past President. Jane enjoyed cooking, baking, sewing, quilting, gardening, reading, traveling and most importantly family. As a loving mother and grandmother she was a large supporter in her children's and grandchildren's school events.
She is survived by her loving husband: Michael F. Garrett whom she married on May 16,1986, 1 daughter: Kristen (David) Wolfanger of Perry, 1 son: Jonathan Kline of Perry, 2 step-sons: Scott (Jodie) Garrett of Apple Valley, MN., Andrew (Shannon Welch) Garrett of Dallas, TX., 2 sisters: Cheryl Kelly of Perry, Suzanne (Tom) Guesno of Perry, twin brother: John (Paula) Cook of Pavilion, 4 sisters-in-law: Mary Ann (Glenn) Heckard of Madison, WI., Glenda (Marvin) Riggins of Rockford, IL., Vicki Rudolph of Ames, IA., Nora (Jerry) Clapsaddle of Rockford, IL., 7 grandchildren: Blake, Braeden, Jacob, Emily, Laura, Katie and Phillip, a great grandson: Zachary, along with many nieces, nephews and friends.
Along with her parents she is preceded in death by a niece: Patricia Cook, great niece: Elizabeth Hurlburt, In-laws: Frank and Norene Garrett and 2 brothers-in-law: Jim Kelly and Charles Rudolph, former In-laws: Wes and Betty Kline.
Family and friends may call from 1-5pm on Saturday September 24th at the Eaton-Watson Funeral Home, LLC. 98 North Main St. in Perry. A Celebration of Jane's life will be held on Sunday September 25th at 2pm at the Geneseo United Methodist Church 4520 Genesee Street Geneseo, NY 14454 Jane will be laid to rest in Prospect Hill Cemetery in Perry Center.
Memorial contributions may be made to the American Red Cross 1040 University Avenue Rochester, NY 14607 or to the Parish Outreach Center at the Geneseo United Methodist Church 4520 Genesee Street Geneseo, NY 14454. To leave an online condolence please visit www.eatonwatsonfuneralhome.com. Arrangements completed by Eaton-Watson Funeral Home, LLC, 98 North Main Street Perry, NY 14530.