Nicole Rae (Burdick) Leo, age 43, passed away unexpectedly on September 14, 2022.
Image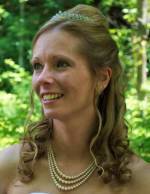 She was a very caring and devoted RN at the Batavia Veterans Nursing Home.
     She leaves behind a loving husband, Brian Scott Leo; his son, Ryan; father, Raymond Burdick and mother, Diane Burdick (Watson); sisters, Corina, Shannon, Sarah; a brother, Elijah; nieces, Raegan and Riley, along with many other beloved family members and friends.
     Nicole will be dearly missed and will always hold a special place in our hearts. 
     A Celebration of Life will be held at the Falcone Family Funeral & Cremation Service Inc., 8700 Lake St. Rd, LeRoy on Saturday, September 24th, 2022 from 2 ~ 6 PM.
     Your memories and condolences may be shared with Nicole's family at www.falconefuneralhome.com.