October 6, 2022 - 11:37am
Steven E. Pullen
posted by
Ronald Konieczny
.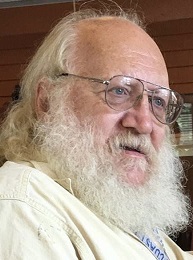 Steven E. Pullen, 72 of Batavia, passed away on Friday (September 30, 2022) at United Memorial Medical Center.
He was born July 18, 1950 in Nampa, Idaho, a son of the late Jesse Pullen and Dorothy Corttis Pullen Cox.
Steven and Connie met in May of 1972 and married May 4, 1974. Fifty years together and 48 years married. They raised 4 fine children in Perry, NY. where they lived until 2010.
Steven worked as a steel fitter at Graham Corporation in Batavia for over 45 years. For many years he also worked as a white water raft guide, primarily in Letchworth State Park. Over the years he was a Boy Scout, a member of the NRA, an American Red Cross instructor, and a volunteer ambulance responder among other things. He had enjoyed traveling around the US since his retirement, revisiting many spots he had seen as a child.  He had a life time love of photography and miniature trains.
He was predeceased by his daughter Lucy Pullen who died in 2018.
Survivors include his wife, Constance Kline Pullen of Batavia. Daughter, Sandra (Terry) Rawleigh of Dansville. Sons, James "Jamie" Pullen and William "Willie", both of Batavia. Grandchildren, Madelynn and Alexander Rawleigh. Brothers and sisters, Julie Grant, Robert Pullen, Janice Palumbos, Debra Pendergast and Lillian Hashimoto. Also survived by sisters in-law and numerous nieces and nephews.
Family and friends are cordially invited to share thoughts, condolences and fond memories on Saturday (October 8th) from 3-5pm at the J. LEONARD McANDREW FUNERAL HOME, LLC, 2 Bogue Ave., Batavia, NY, where a remembrance service will commence at 5pm.
Expressions of sympathy may be shared with the family at: www.mcandrewfuneralhomes.net.
ARRANGEMENTS WERE ENTRUSTED TO THE J. LEONARD McANDREW FUNERAL HOME, LLC, 2 BOGUE AVE., BATAVIA, NY 14020. RONALD KONIECZNY II, DIRECTOR.