October 7, 2022 - 9:48am
Newton Earl Worthington Jr.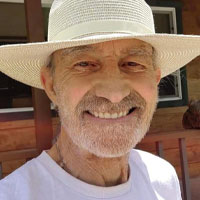 Newton known to many as Skip passed away September 15, 2022, at his home in Big Bear California. He was born August 13, 1948, in Batavia NY, the son of the Late Newton Earl Worthington and Mary E. Worthington Walczak. He was also preceded in death by his sister Rosemarie.
Skip graduated from Pembroke High School in 1966 and shortly after enlisted in the United States Marine Corp. He served in the Marine Corp from 1967 to 1971 with active duty in Vietnam. After discharge from the military he was self employed as a contractor in a flooring business in California. Skip loved music and in high school played in a drum corp and local band. He especially enjoyed Willie Nelson.
Surviving are his children; Dana Worthington of CA, Keith (Dina) Worthington of Big Bear, CA, Christian (Marci) of Big Bear, CA , Dianna Towns of Big Bear CA, April (Matthew) Nolte of Senora, CA and Cathren (Ryan) Salzano of Knoxville, TN. Also long time companion Susie Burchit of Big Bear, CA.  He is survived by 10 grandchildren 5 great grandchildren, and his siblings, Patricia (Richard) Dibble of Texas, Rosann (David) Lowder of Varysburg, Clinton (Barbara) Worthington of Batavia, Pamela Stadler of Batavia, and Keith Worthington of Corfu, along with many nieces, nephews and cousins.
Calling hours will be at the C. B. Beach & Son Mortuary, Inc., 4 East Main Street, Corfu NY on Friday, October 14,  from 5 to 7 p.m. Mass of Christian Burial will be held Saturday, October 15, at 11 AM at St. Maximilian Kolbe Church, 18 West Main Street, Corfu, followed by a Graveside Burial with military honors in Indian Falls Cemetery. In lieu of flowers, donations may be made to a charity of the donors choice .