October 26, 2022 - 9:06am
Helen Klinkbeil
posted by
LaVern Falcone
.
LeRoy ~ Helen Z. Klinkbeil, 96, passed away peacefully on Sunday, October 23, 2022, in Rochester, NY, in the loving presence of her family. She was born on June 2, 1926, in Elba, NY to the late Stanley and Josephine Zielinski.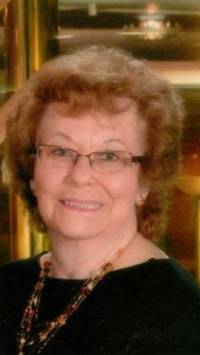 Helen grew up on a farm as the 7 th child of 10 children. After the morning chores, she volunteered to walk with her sister to their one room school early so that they could light the stove to warm the building. That way, the teacher and other students would be warm when they arrived for the school day. She said her best days were when the milk man came by and gave her and her sister a ride to the school.
     Her first job was in Batavia where she worked with her best friend, Teresa Scott, performing office duties. She and the rest of her siblings were working so they could help fund the money needed to add to their farm home for their growing family.
     One weekend, at a dance with Teresa, she met her future husband, Clarence Klinkbeil, a US Marine, who served in WWII and was now in the US Air Force. They married on April 14, 1951. Their family began with their first two children, Barbara and David when her husband was transferred to Germany in 1955. Against her doctor`s wishes, she traveled by train from Elba to New York City, and then flew to Germany with Barb (4 yrs. old and Dave 3 yrs. old) while being 8 months pregnant with their third child, Richard, who was born in Germany in 1956.
After returning from Germany, they lived in several locations in the US until they settled in Caledonia, NY when her husband was assigned as a recruiter in Rochester, NY. They had their fourth child, Mary, and in 1966 moved to the hometown and birthplace of her husband, Clarence, which was LeRoy, NY.
     Helen was a stay-at-home mom until her children were older and she then went to work at a local bank in LeRoy. She retired from the bank as the head teller in 1982 and devoted her time with her children and grandchildren.
     Helen was an independent, strong, and resourceful person. She raised four children while her husband was serving in the military. She taught her children to cook, sew and to be self-sufficient. She painted several rooms for her children's homes (in several states) as well as installing wallpaper in places that she felt were needed. She was the wallpaper Queen. She once broke her foot while painting a ceiling in a family members home and drove herself home (one footed) before she sought help. A cast and crutches were the result. She was a gifted card player and casino gambler. With a $20.00 limit!
     She taught four generations of family how to play Euchre and Gin Rummy. When she received scratch offs from many states, she always won. In the casino`s, she was always the winner to offset the rest of our losses. When the grandchildren played Euchre, once they had a decision to make: they would often say "What would Grandma do?". She was a gifted singer, loved karaoke, Willie Nelson and Polka Joe. She also loved dancing, taught all of her children to dance and taught her girls to make their own prom dresses with fabric and patterns spread all over the living room floor. 
     Helen`s fondest moments were spent with her family. Children, grandchildren, and great grandchildren. As her family grew and spread outside of the area, she had an unofficial family reunion each July at a cottage in the Finger Lakes region that would bring family members together from Alaska, Texas, Colorado, Florida and more; so, as generations grew, family members would stay close. Family was her joy right until the end of her life.
     Helen is survived by her children, Barbara (Michael) Perry of Le Roy; Richard (Maureen Rosamilia) Klinkbeil of Huddleston, VA; and Mary (Robert Jones) Garrison of Chicago, IL; her grandchildren, Matthew Perry, Christina (Trent) Jandik, Nathan (Michele Lennon) Perry, Shannon Detone, Erica (Donnie) Sharp, Richard "Chaz" (Leah) Klinkbeil, Andrew Klinkbeil, Brandon Klinkbeil, Jason Klinkbeil and Stephen Garrison; and her great-grandchildren, Lilliana and Delaney Perry; Rose, Kathryn and Elizabeth Jandik; Julia Lennon, Gabriel Detone, Mila Garbaccio, Aria and Ella Klinkbeil; Aubrey Klinkbeil and Eleanor Sharp; and several nieces and nephews.
     Helen was predeceased by her husband, Clarence Klinkbeil (2019), her son, David Klinkbeil (1996); and her siblings and their spouses, Stella (Joseph) Syzmanski, Sophie (Alfred) Kingdom, Julian (Lillian) Zielinski, Anne (Steve) Surman, Mary (Bernard) George, and Frank Zielinski.    She is survived by Martha (John-deceased) Tierney, Bruno (Dorothy) Zielinski, Jennie (William-deceased) Seager and Jane Zielinski.
     There will be visitation from 9:30 am – 10:30 am on Saturday, October 29, 2022, at Falcone Family Funeral & Cremation Service Inc., 8700 Lake Road, Le Roy, NY.  Her Rite of Christian Burial will be held after visitation at 11:00 AM at Our Lady of Mercy Parish, St. Peter's Church, 44 Lake Street, Le Roy, with interment to follow in St. Francis Cemetery, Le Roy, NY.
     In lieu of flowers, please donate to Hildebrandt Hospice Center, 2652 Ridgeway Ave., Rochester, NY 14626.
     Your memories and condolences may be shared with Helen's family at www.falconefuneralhome.com.