October 26, 2022 - 9:10am
Sharon Ann Cone
posted by
LaVern Falcone
.
Wyoming ~ Sharon Ann Cone, age 68, of Roanoke Road, passed away Friday evening (Oct. 21, 2022) in her sleep. Mrs. Cone was born Nov. 26, 1953 in Batavia, a daughter of the late Philip and Louise Cinquino Scheuing.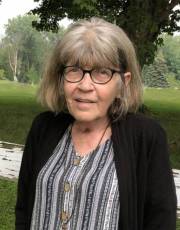 She is predeceased by her loving husband, Gerald "Jerry" A. Cone and survived by many family members. Sharon and Jerry raised six children; Jesse (Joanna) Cone of Seattle, WA, Joseph (Melissa) Cone of LeRoy, Jarrod (Christina) Cone of Champlain, Jacob (Gretchen) Cone of Stafford, Jonathan (Jessica) Cone of Dundalk, MD, and Taylor Louise Cone (Jason Colwell) of San Antonio TX; fifteen grandchildren; McKenna, Kaylynn, William, Lucas, Lydia, Alex, Lance, James, Caleb, Lincoln, Geri, Louise, Kiptyn, Charlie, and Dylan; two dear children; Kayla and Sophia Colwell; sister; Donna Muehlig of Batavia; and several very close friends, cousins, nieces, nephews, and brothers- and sisters-in-law.
     Sharon was a strong and independent person who often provided advice, insight, and comfort to those who needed it. Much of her strength came from her unwavering faith and she lived everyday using her Catholic values as her North Star. She was parishioner of the church of Our Lady of Mercy throughout her life and, for many years, was an active member of the Third Order of Lay Carmelites while often serving executive positions.
     Sharon was an avid Steelers fan and her love for the game had a palpable reaction to those around her. She loved all things art; being visual, written, or audible. Sharon was quite an artist herself. In fact, she first garnered her future husband's interest by drawing a mural on an apartment wall. She also enjoyed drawing chalk portraits of her children when they were young.   Her favorite author was Stephen King and she spread her passion for all things spooky to her children and grandchildren. Sharon loved all holidays but did not like turkey and so that meant that Thanksgiving Day was about rooting against the Cowboys. She spent many afternoons and evenings revealing the joys of classical literature to anyone who would listen or couldn't outrun her. As a result, she had opened worlds of contemplation and intrigue to her less speedy children, nieces, and nephews.
     A mass in her honor will be held on Saturday, Nov. 19 at 11:00 AM at Our Lady of Mercy Parish, St. Peter's Church, 44 Lake Street in LeRoy.
     IN LIEU OF FLOWERS, memorials may be made to Crossroads House, 11 Liberty St., P.O. Box 403, Batavia, NY 14020.
     Your memories and condolences may be shared with Sharon's family at www.falconefuneralhome.com.