October 26, 2022 - 4:12pm
Christopher M. Robinson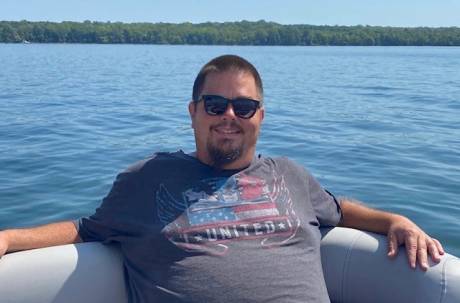 Jan. 25, 1974 — Oct. 23, 2022
It is with heavy hearts that we announce the passing of Christopher Michael Robinson, formerly of Ramona, Calif., and most recently a resident of Darien Center, N.Y., after a brief but brave battle with cancer.
Gail and Michael Robinson were living in Ramona, Calif., when they welcomed their firstborn child, Chris, on Jan. 25, 1974.
Chris lived in Ramona throughout his childhood, attending Cornerstone Christian School in Poway and graduating from Ramona High School in 1974. He enjoyed getting together with his grandparents, aunts, uncles and many cousins. Some of his favorite past times were hunting, fishing, and vacationing with his family.
He met Sandie Barbaritz, the love of his life, and they were married on March 22, 2003, making their home in Ramona and adding to their family with the births of Maddie and Noah. In 2014, they made the move to New York, where Sandie was raised.
Chris was devoted to his wife and children, and his greatest joy was being with them and cheering them on in sports and other interests.
He was preceded in death by his mother, Gail Robinson (Williams). He is survived by his beloved wife, SandraLee "Sandie" (Barbaritz); children, Madalyn "Maddie" and Noah; father, Michael Robinson; and sister, Joetta "Jodi" Williams (Robinson); and many family members and friends who will miss him greatly.
Family and friends will be received on Sunday, Oct. 30, 2022, from 12:00 pm to 4:00 PM at Marley Funeral Home, LLC, 135 Main St., Attica, N.Y., 14011. The family encourages friends and teammates of Maddie and Noah to attend. A Celebration of Life will be held on Monday, Oct. 31, at 10 a.m. at Alden Community Church, 1400 Sullivan Rd., Alden, N.Y. 14004. He will be laid to rest at Forest Hill Cemetery.
In lieu of flowers, donations may be made to his children, Maddie and Noah. For more information please call (585) 591-1212 or to leave a message of condolence visit www.marleyfuneralhome.com. Arrangements completed by Marley Funeral Home, LLC. 135 Main Street, Attica, New York 14011