October 28, 2022 - 8:23am
Darlene S. Sztaba
posted by
LaVern Falcone
.
Darlene S. Sztaba, 75, of Bergen, New York, passed away peacefully on October 25, 2022 surrounded by her family.  
     Darlene was born on February 28, 1947, in Stevens Point, Wisconsin to June Dakins and James L. Syms.  She was one of six siblings: Lawrence "Butch" Syms, Fred "Stubby" (Terri) Syms, Rick (Sandy) Syms, Mike (Dianne) Syms, and Nancy (Dennis) Blagg.  Darlene moved to New York State in 1967, married and started a family. Darlene retired from Byron-Bergen Central School where she worked first as a cafeteria worker and then a custodian.  She loved her job and working with the many wonderful people at the school.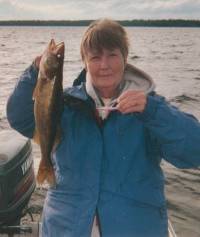 The simplest pleasures in life brought great joy to Darlene.  Her love for her family was unparalleled, equalled only by her overwhelming love of the game Yahtzee.  She never went anywhere without it and happily destroyed any Yahtzee amateur that challenged her.  She was also an avid fisherwoman and felt at home being on the peacefulness of the water.  Originally  from Wisconsin, Darlene was very passionate about all things Wisconsin.  She faithfully cheered on her Green Bay Packers both in the brightest and darkest of times.  Perhaps being a native of Wisconsin and a lifelong cheesehead brought out her love for a great grilled cheese sandwich or two! She loved her time spent in Rhinelander, Wisconsin visiting family, fishing, and making memories.  She was most at  peace visiting the stone cottage on the Wisconsin River.  She also fancied a piece or two of grape pie.  She loved taking her excursion out in search of the best pie, which of course was always Monica's Pies.  Darlene was an avid crafter and enjoyed expressing her creativity through her many projects that she created.  She loved crocheting towels for everyone she knew.  She was also a devoted fan of Days of Our Lives and hated to miss an episode.  Darlene could best be described as both sassy and genuinely kind-hearted.  She was a friend to all and always wanted to help others.  Her witty nature and great one liners kept us all on our toes up to the very end.  Her stubbornness was her greatest asset at times.  It was the way in which she lived, on her terms and in her own way.
     Darlene was preceded in death by her parents and son, Matthew Charles Staba.  She is survived by her companion, Dennis Walker; her children: James (Susan) Staba, Roxanne (Peter) Coleman, and Melissa (Randal) Staba-Busch; her grandchildren: Tyler Murtha, Courtney (Eric) Hyde, Rayleigh Staba (Joe Brown), Kyle Coleman, Caleb Busch, Jamie (Spencer) Thomas, and Zander Staba.
     As per Darlene's request, her immediate family will be celebrating her life privately. 
     In lieu of flowers, donations can be made to Crossroad House, 11 Liberty Street, P.O. Box 403, Batavia, NY 14021.  www.crossroadshouse.com/donate
     In memory of Darlene, the family asks that you crack open a Genny Light, make yourself a grilled cheese sandwich, and splurge on some grape pie in her honor, it is the way she would have wanted you to celebrate her.
     Your memories and condolences may be shared with Darlene's family at www.falconefuneralhome.com.