November 1, 2022 - 8:19am
Jeanne Avis Freeman
posted by
LaVern Falcone
.
Byron ~ Jeanne Avis Moultrup Freeman, age 76, passed away peacefully Sunday afternoon (October 30, 2022) in the loving presence of her family.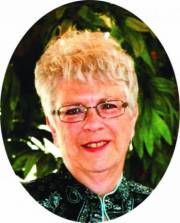 She was born August 26, 1946 in Batavia, a daughter of the late Paul and Mildred Bohadlo Moultrup.
     Jeanne will be remembered as a loving and devoted wife, mother, grandmother, sister, aunt and dear friend, who wore many "hats".  She worked as a 4 H secretary, a stay at home mom, which coincided with making wedding cakes and finally serving as the Byron Town Clerk from 1985 – 2005 before retiring.
     She was a lifelong seamstress, a photographer, enjoyed scrapbooking, gardening, snowmobiling, watching her daughters show horses, a 4 H leader and a member of the Byron Historical Society.  Above all, she was a car enthusiast at heart.  She and her husband, Bill, would travel to car cruises and shows with her prized possessions; her 1970 Mach I Mustang and her 2002 Mustang GT.  

     Jeanne married the love of her life, William Kent Freeman in 1965 and they shared their home in Byron for 57 years.  In addition to her husband, Bill, she is survived by her daughters, Melissa A. (Brian) Sheard and Debra L. Freeman Baris (Ron Coniber); grandchildren, Brent Sheard (Lauren Williams), Alianna Baris and Camden Baris; sister, Donna (Cliff) Harper of OH and their son, Steve (Susan) Harper and children, Sophie and Hayden of TX; brother-in-law, Mike Smith of NC and his daughter, Michelle (Mike) Childers and children, Jayden and Sabastian, along with many dear friends.
     In addition to her parents, Jeanne was predeceased by her sister, Eileen Smith and nephew, Jason Smith.
     Family and friends may call on Friday, November 4 from 2 ~ 4 and 6 ~ 8 PM at the Falcone Family Funeral & Cremation Service Inc., 8700 Lake St. Rd. (Rt. 19), LeRoy.  Her Service of Remembrance will be held on Saturday, November 5 at 11:00 AM at the Morganville United Church of Christ, 8466 Morganville Road, Stafford, NY.
     In lieu of flowers, memorials may be made to the Morganville United Church of Christ, P.O. Box 43, Stafford, N.Y. 14143.
     Your memories and condolences may be shared with Jeanne's family at www.falconefuneralhome.com.