November 25, 2022 - 10:05am
Albert S. Kurek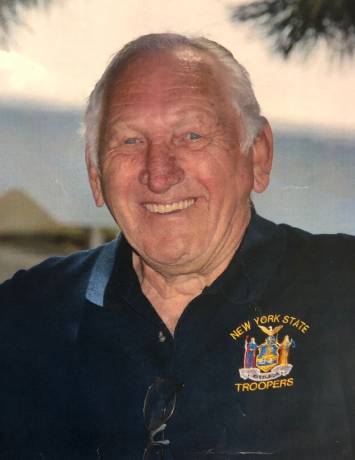 Albert S. Kurek "Big Al", Age 83, of East Pembroke, NY. passed away on November 22, 2022 at Buffalo General Hospital. He was born on March 18, 1939 in Buffalo, the son of the late Stanley & Helen (Sikorski) Kurek. He was the husband of the late Florence "Annie" Docherty. 
Al is survived by his son; Alan (Lori) Kurek; daughter Kimberly (Kevin) Hale; beloved grandchildren Adam & Marc Kurek, Erin, Michaela & Mitchell Hale ; late sister Norma (Richard) Mathewson, brothers David (Lynn) Kurek and Dennis Kurek; dear companion Michelle Spoto;  along with several nieces & nephews. With great pride, he loved watching his children and grandchildren grow into adulthood and was proud of their many accomplishments. 
He served with the U.S. Marine Corps from 1956-1960, was a NYS Trooper from 1962-1985 stationed in Batavia and was a special agent with the Department of Defense from 1985-2001.  Albert was a noted historian of the New York State Police, having authored three books detailing the NY Troopers history.  He was a 25 year officer in the Batavia Chapter of Former NYS Troopers, a member of the former St. Nick's Club, the Polish Falcons, the Loyal Order of Moose, the Fraternal Order of Elks and NYS Police Benevolent Association.  He enjoyed the camaraderie he had with friends & golf partners.
Friends are invited to call on Thursday December 1, 2022 from 3:00-7:00PM at Gilmartin Funeral Home & Cremation Co. Inc. 329-333 West Main Street Batavia, New York 14020. A 9:30AM Mass of Christian Burial will be held on Friday December 2nd at Resurrection Parish 18 Ellicott St. in Batavia. Al will be laid to rest at a later date in the spring with full military honors in the Western New York National Cemetery in Corfu.
Memorial/donations can be made to the Former Troopers Helping Hands, P.O. Box 432, West Seneca, N.Y. 14224-0432 or the WNY National Cemetery, 1254 Indian Falls Rd, Corfu, N.Y. 14036. To leave a message of condolence please visit www.gilmartinfuneralhome.com. Arrangements completed by Gilmartin Funeral Home & Cremation Company, Inc. 329-333 West Main Street, Batavia, New York 14020