December 14, 2022 - 4:08pm
Jessie Ann Loomis Clark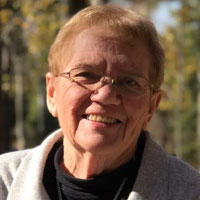 LeRoy- Jessie Ann Loomis Clark, 82, died peacefully on Wednesday, December 14th, surrounded by the love of her family.
The times spent with family were the most important times to her. She will be missed by family and friends and remembered for her quick wit, many talents, beautiful smile, and for remembering every occasion with a greeting card or note.
She was a talented gardener and created beautiful, themed gardens all around her home.  She demonstrated her creativity in cooking (bread/roll maker supreme), sewing, crafting, and quilting and giving those items as gifts to family and friends. She was an avid reader, crossword puzzle expert, and a formidable Scrabble player. She loved traveling and was always up for an adventure - near or far. 
Survived by her companion of more than 40 years, Steven H. Spencer; her children, Lorrie (Robert) Clark-Hannan of Falls Church, Virginia, Guy (Patricia) Clark of Pavilion and, Rhett (Lisa) Clark Caledonia. 
Grandchildren Calder Hannan, Emma Hannan (Aditya Rajput), Caylin (Steve) Depuy, Adam Clark, Connor (fiancée Becca Sarge) Clark, Danielle (John) Whiting, Quentin (Colleen) Clark, and Olivia (Dan) Otto and 6 great grandchildren.
Also surviving her: sister Alice Stefani, brother Larry (Donna) Loomis, sister-in-laws Martha Loomis, VIrginia Smith, Joan Clark, brothers-in-law, Bill (Peggy) Clark, Scott (Madeline) Clark, and Steve's children, Steve D.(Sue) Spencer, Sue (Roger) Gray, and Robin Spencer, many nieces, nephews and dear friends. 
Predeceased by her parents, Gaspard and Celia Loomis, brothers, Harry and Allen Loomis. 
Donations may be made to Genesee Cancer Assistance (www.geneseecancerassistance.org) 127 North St. Batavia, NY 14020 or charity of your choice. 
Friends may call  from 3:00-5:00 PM on Monday, December 19th, at Alhart Funeral Home, 3068 Main Street, Caledonia.   Immediately following, friends and family are invited to a celebration of Jessie's life from 5:00-7:00 at Caledonia Country Club, 303 Park Place, Caledonia.
Per Jessie's wishes, a private memorial service will be held at a later date.
To share a memory or leave a condolence please visit Alhartfuneralhome.com