December 16, 2022 - 12:20pm
Dustin D. Clark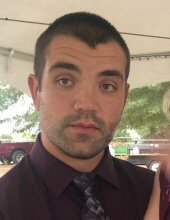 Dustin D. Clark, age 34, of Silver Springs, NY passed away unexpectedly on Wednesday December 14, 2022. He was born in Rochester, NY on February 17, 1988 a son to Kim A Clark of LeRoy and Cathy C. (Forrester) Caudill of Perry.
Dustin was a 2006 graduate of Perry High School. He was a mason for Baltz Concrete in Pavilion. He enjoyed playing disc golf, corn hole, bowling, riding his motorcycle and going on family vacations. His biggest joy was times spent with his fiancée Erica and their children Sutton and Miles and attending all of the family gatherings.
He is survived by parents Cathy C. (David) Caudill of Perry, Kim A. Clark of LeRoy, fiancée: Erica Granger of Silver Springs, children: Sutton and Miles Clark, Erica's parents: David (Lisa) Granger of Silver Springs, maternal step grandmother: Pauline Forrester of Hume, Paternal grandparents Marge Clark of Gainesville, FL., and Daniel Clark of Venis Fl., sister: Tasha Clark of Chili, NY, half-sisters: Erica Clark of Warsaw, Tonya Schlenker of Bolivar and step-sister: Teresa Hoy of LeRoy, sister-in-law: Karen (Andrew) Inglis of Minoa, New York, nieces and nephews: Paige and Devin Inglis, Lilliana and JT Trzecieski and Tavis Lakin, along with many aunts, uncles and cousins.
He is preceded in death by maternal grandparents: Robert John and Jeanette (Klatt) Forrester.
Family and friends may call from 3-6pm on Monday December 19th, 2022 at Eaton-Watson Funeral Home, LLC. 98 North Main St. in Perry where Services will follow at 6pm.
(In lieu of flowers) Memorial contributions may be directed to Lisa Granger P.O. Box 246 Silver Springs, NY 14550 to start up a trust fund for Dustin's children. For more information please call (585) 237-2626 or to leave a message of condolence visit www.eatonwatsonfuneralhome.com. Arrangements completed by Eaton-Watson Funeral Home, LLC. 98 North Main Street Perry, New York 14530.