December 18, 2022 - 7:57am
Stephen Paul Mancuso
posted by
LaVern Falcone
.
LeRoy ~ On Saturday, December 10, 2022, Stephen Paul Mancuso, loving father and grandfather, passed away peacefully in his home.  He was 67 years old.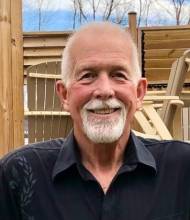 Stephen was a lover of life and all of the chapters in it.  People were drawn to his passion and his charisma.  His house was an open door where family and friends could gather free from judgement.  He had strong beliefs and a curious mind.  He never stopped searching for the truths of his passions and was not afraid to share with anyone willing to lend a listening ear. 
     He cared greatly for his home and took pride in keeping it pristine.  He always had a project or a job to do, and there was no job that he could not do himself.  You could find him on a ladder, mowing the lawn, cutting down a tree, planting in one of his three gardens, braiding garlic in the barn, or walking barefoot underneath the pine trees. 
     Stephen loved cinema and was a sucker for a romantic comedy.  His favorite movie of all time was 'It's a Wonderful Life'.  He could re-watch movies over and over again and loved to show off his extensive movie collection. 
     He loved to travel and see the world from the seat of his Harley Davidson, but if you asked him, the biggest risk he ever took was not taking enough risks. 
     The last year of his life, he became a grandfather to Maverick Stephen Chatham.  He shared with all that this was his greatest gift.  He could not brag enough about the love he had for his grandson and his children.
     He is survived by children, Christina Chatham (Mancuso) and Matthew Mancuso; son-in-law, Shane Chatham; grandchild, Maverick Chatham; siblings, Lynn Rapone, Paul (Wendy) Mancuso and Gene (Melanie) Mancuso; nieces and nephews, Brandi Rapone, Heather Rapone, Emily Mancuso, Morgan Mancuso, Corey Mancuso, and Grace Mancuso.
     Stephen was preceded in death by his father, Eugene Paul Mancuso and his mother, Dale Ann (Dool) Mancuso.
     A memorial gathering celebrating Stephen's life will be held on Thursday, December 22, 2022 from 2 – 5 PM at Falcone Family Funeral & Cremation Service Inc., 8700 Lake Steet Road, LeRoy, New York 14482.  At 5 PM family and friends are welcome to share stories about Stephen.
     In lieu of flowers, memorial contributions in Stephen's memory can be made to LeRoy Sports Boosters.  Stephen loved LeRoy sports and participated in the wrestling and football programs during his high school years.  Checks can be made payable to: LeRoy Sports Boosters.  If unable to attend the visitation, checks can be mailed to LeRoy Sports Boosters, c/o LeRoy High School, 9300 South Street Road, LeRoy, New York, 14482.
     Your memories and condolences may be shared with Stephen's family at www.falconefuneralhome.com.