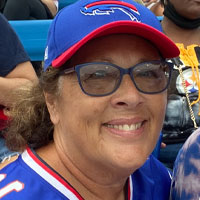 Jill L. Smith, 68, of Batavia, passed away after a short illness on Saturday, December 17, 2022, surrounded by love at Crossroads House.
She was born December 21,1953 in Rochester, NY, the only child of the late Howard and Laura (Martin) Walrath of Avon, NY and wife of the late Rodney Smith of Corfu, NY.
Jill began working for New York State right after graduating high school and spent most of her career working for the Finger Lakes Developmental Disabilities Service Office, where she retired from in 2008. One of her greatest passions in life was helping others. After retirement from the State, she worked as a private Nanny and as a bus aide at Byron-Bergen School district, but she found much fulfillment in working for Healthy Living at Rochester Regional Health as a Peer Educator where she met with community members in the GLOW region to educate them on the importance of cancer screening, a cause very near and dear to her heart after her own battles with breast cancer. 
In her free time Jill was an avid trapshooter who won several state championships, a curious traveler who always enjoyed an adventure and seeing the world, a green thumb who prided herself on her creative and vibrant gardens every spring, a passionate and life-long Buffalo Bills fan through the good years and bad who loved being at games, and an accomplished cook and baker. 
Jill was a warm and loving person. Her family and friends were always paramount to her, and she loved her daughter Meghan, husband Michael, and dog Mozart with everything she had. 
She is survived by her husband, Michael Mager of Batavia and daughter, Meghan Gallagher of Batavia.
The family would like to thank so many friends for their support over the last five months and the staff at Crossroads House for their compassionate care of Jill at the end of her fight. 
Family and friends are cordially invited to call and share thoughts, condolences and fond memories on Wednesday, December 21 from 4 to 8 p.m. at the J. Leonard McAndrew Funeral Home, 2 Bogue Ave., Batavia, NY.  A celebration of Jill's life will take place on Thursday, December 22 at 11a.m. at Pembroke Community Church, 692 Main Road, Pembroke, NY. 
A private graveside ceremony for family and close friends will take place at a later date. 
Memorial contributions may be offered to Penn Medicine where a fund has been set up in her name to support research for BRCA genetic mutations and Glioblastoma:  http://givingpages.upenn.edu/rememberingjillsmith or Crossroads House. Expressions of sympathy may be shared with the family at www.mcandrewfuneralhomes.net.  Arrangements were made by C. B. Beach & Son Mortuary, Inc., Corfu, NY.