Image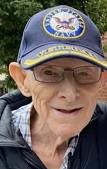 John Charles Bannister, 87 of Batavia, passed away December 6, 2022 at his residence.
He was born November 8, 1935 in Batavia, NY, a son of the late Charles John Bannister and Amanda Davis Bannister.
He served our great nation as a cryptologist in the US Navy from 1954-1958. He was a computer specialist for Graham Manufacturing prior to retirement. He was a past Batavia City Councilman and former member of the Batavia Jaycees and past commander of the Glenn S. Loomis American Legion Post #332. He also enjoyed singing in his barbershop singing group. John had a deep love for his Guinness Beer, fancy dance moves and gifting family and friends lottery "scratchers." He always had a positive outlook on life and was so full of energy. He had the kindest of hearts and was always willing to help anyone in need. He loved God and his Country, and even wrote his own prayer:
DAD'S PRAYER
In God I trust and thank you for everything I have received.
Do unto others as you want them to do unto you.
For God and Country, I dedicate myself to the best of my ability.
Please let there be peace on Earth.
Please forgive me for saying your name in vain.
AMEN
Survivors include a daughter, Coreen (Jonathan) Miller of Florida. Son, Christopher (Lisa) Bannister of Attica. Grandchildren, Brandon (Samantha) Burns, Kaitlyn (Michael) Tiede and Arin (Patricia) Bannister. Great-grandchildren, Elias and Denton. Also survived by a sister, Sally (Richard) Benz.
A funeral service will be held at the convenience of the family with Military Honors in the Western New York National Cemetery.
Expressions of sympathy may be shared with the family at www.mcandrewfuneralhomes.net.
ARRANGEMENTS WERE ENTRUSTED TO THE J. LEONARD McANDREW FUNERAL HOME, LLC, 2 BOGUE AVE., BATAVIA, NY 14020. RONALD KONIECZNY II, DIRECTOR.