Image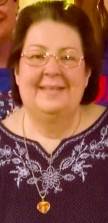 Batavia - Louise Condello, age 65, of Batavia passed away on Monday, December 26, 2022 at Rochester General Hospital in Rochester following a brief illness.
Louise was born Sunday, April 14th, 1957 in Batavia, daughter of the late Frank Condello and Rose (Talone) Condello. 
Louise was a faithful member of Resurrection Parish. She was an avid bowler and loyal fan of the Buffalo Bills.  Louise graduated from Batavia High School in 1975.  After graduation she was an office employee at the former Jubilee Foods and Super Duper in Batavia for many years.
Louise is survived by her cousins in the Condello, Talone and DiSalvo families.  
There are no prior visiting hours. Her Mass of Christian Burial will be celebrated at 10:00 am on Monday, January 2nd, 2023 at Resurrection Parish, 303 East Main Street, Batavia. She will be laid to rest in St. Joseph Mausoleum, Batavia.  In lieu of flowers, memorials may be made to a charity of the donor's choice. To leave a condolence, share a story, or light a candle in her memory, please visit www.bataviafuneralhomes.com.
Arrangements have been entrusted to the H.E. Turner & Co. Funeral Home, 403 East Main Street, Batavia.