December 31, 2022 - 4:33pm
Joan Blyth
posted by
LaVern Falcone
.
Stafford, N.Y. ~ Joan Blyth, age 88, of Horseshoe Lake Road, passed away early Friday morning (December 30, 2022) at Strong Memorial Hospital.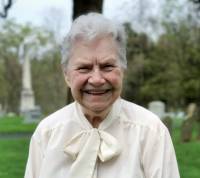 She was born May 11, 1934 in Bethlehem, PA, a daughter of the late James and Helen Johnson Blyth.
     Joan will be remembered as a loving mother and grandmother, who was very proud of her World War II research work.  She, along with a historian, researched the "B-29 Bomb Group", which ultimately brought many veterans and their families together.  Joan worked for the Princeton Theological Seminary for many years as a secretary.  She had a love for all animals, especially wolves and was an avid reader.
     She is survived by her daughters, Donna L. Voorhees and Tracey L Collins (Ken); son, John M. Stahl (Diane); grandchildren, Christopher J. Voorhees (Chelsea), Travis A. Voorhees (Maria), Sarah C. Cliff and Heather M. Kasprzak; great-granddaughters, Rileigh E. Voorhees and Athena S. Voorhees, along with her feline companion, Fred.
     A celebration of Joan's life will be held at a future date in New Jersey.
     In lieu of flowers, memorials are suggested to St. Jude's Children's Research Hospital, Lollypop Farm or Lakota Wolf Preserve.
     Your memories and condolences may be shared with Joan's family at www.falconefuneralhome.com.