January 4, 2023 - 9:58am
Mary Katherine White
posted by
LaVern Falcone
.
LeRoy ~ Mary Katherine White finished her journey here on earth January 2nd, 2023 after a battle with cancer.
     Mary was born February 5th, 1961 in Auburn, NY. She grew up and spent a lot of her life in Bergen, NY. She relocated to LeRoy, NY with her husband in 1994.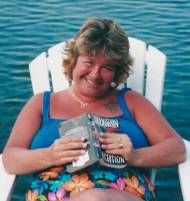 She was a nanny, a preschool teacher at Little Hands Preschool and cooked meals for elders at The Greens of LeRoy. Mary was involved with the Bergen United Methodist Church's many programs and events. She devoted much of her life to helping others and was loved by many.
     Mary's children and grandchildren were her pride and joy. She loved gardening, creating and spending time with family and friends. Some of her best moments were spent on the water of Cayuga, Black and Honeoye Lakes.
     Mary is predeceased by her parents, Marjorie and Charles Dusinberre; her brothers, James and John Dusinberre; her sisters, Nancy Hartgrove and Anne Hilburger; her nephew, Sean Dusinberre and her great nephew, Dylan Dusinberre.
     She is survived by her loving husband of 33 years, Don; her children, Katherine (Quentin) Humphrey, Hailey (Jonathan Clark) White, Derek (Lynn) White and Dylan (Lee) White; her sister, Diane (Samuel) Vann; her brother Mark Dusinberre; 6 grandchildren; along with many nieces, nephews, cousins, and friends.
     Services/testimonials will be held on her birthday, February 5th. Calling hours will be held from 1:00 PM to 4:00 PM with a service to follow at 4:00 PM at the Falcone Family Funeral & Cremation Service Inc., 8700 Lake St. Rd. (Rt. 19), LeRoy.
     Flowers can be sent to the funeral home and memorial donations may be made to Little Hands Preschool, c/o Bergen United Methodist Church, 27 S. Lake Avenue, P.O. Box 216, Bergen, NY 14416.
     Your memories and condolences may be shared with Mary's family at www.falconefuneralhome.com.