January 6, 2023 - 11:59am
​Antoinette M Dempski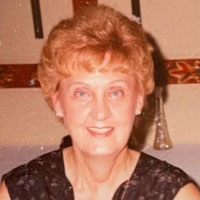 Antoinette M Dempski, 96, of Batavia passed away peacefully Monday, December 19, 2022 at her home.
She was born May 26, 1926 in Buffalo to the late Joseph and Franciszka J. Sochalec. Antoinette was a hard working woman proud of her home that she and her husband built. She enjoyed needlepoint, ceramics, gardening, traveling, and made most of her clothes. She was a great storyteller. At one time she operated a beauty shop in her home. She was proud of her Polish heritage and was a lifetime member of Sacred Heart (Ascension) Parish in Batavia, NY. 

She is predeceased by her husband Andrew P. Dempski and their children: Leonard (Donna) Dempski, Mary (Steven) Bourdon and grandson Nicholas. Her siblings: her sister Mary, and brothers Edward Urban, Leonard, Joseph, and Stanley Sochalec. 

Survivors include her son Andrew (Aleksandra), her grandson Andrew III (Terressa) with whom she resided. And grandchildren Kathleen (Peter) Cecere, Michael (Kathy) Dempski. Her sister Theresa Eckert, and sister in law Diane Sochalec. Also great grandchildren and nieces and nephews. 
A Mass of Christian burial will be held Tuesday, January 10th at 10 am at Ascension Parish in Batavia.