January 15, 2023 - 10:59am
Dennis Onofrio Monachino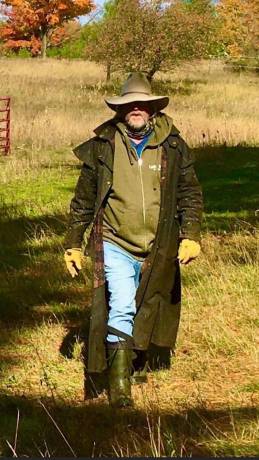 Beaver Island, Michigan - Dennis Onofrio Monachino, age 68, died suddenly on December 21, 2022 on Beaver Island, Michigan.
He was born on June 7, 1954 in Batavia. He is predeceased by his parents, Pat C. and Mary Ellen (McDonough) Monachino.
Dennis is survived by his loving daughter, Crystal Brook Monachino; step-daughter, Carla King and her children, Rhonda, Godfrey, Damien and Austin King; step-grandson Brandon Bragg, Jr. who is predeceased by his father, Brandon Bragg, Sr.; siblings, Cynthia, Julie, Patrick (Anne Marie) and Thomas (Daun) Monachino; his companion, Eileen Woolford-Ballard; and several nieces, nephews, grand-nephews and a grand-niece.
Dennis traveled the world on his terms. He grew up in Batavia, then lived and worked in LeRoy, St. Augustine, Florida, Fort Wayne Indiana and settled in Beaver Island, Michigan. His spirit of adventure took him to faraway places like Australia and New Zealand. Dennis was an accomplished musician and artist. He regularly entertained family, friends and local audiences on Beaver Island with his superb guitar playing and singing. He shared his drawings with all who appreciated his art. His generosity and commitment to family were well known as was his love for, and mastery of, motorcycling, boating, antiquing, music and horsemanship.
Dennis was a jack-of-all-trades who loved to build and rebuild anything motorized and mobile. He worked as a local and long-haul truck driver as well as an international importer/exporter. In retirement he returned to his beloved Beaver Island-the island that captured his heart as a boy-where he owned and rode horses and sailed Lake Michigan.
Family and friends are invited to Batavia Country Club on Saturday, January 21, 2023 from 1 pm to 4 pm to celebrate his life. Please consider memorials in his name to the Elks Chapter 2886, P.O. Box 141, Beaver Island, Michigan 49782. Local arrangements are under the care of the H.E. Turner & Co. Inc. Funeral Home, 403 East Main Street, Batavia.