John Driscoll passed away peacefully surrounded by family early Wednesday morning, January 18th at his home in LeRoy, New York.  He was born on January 20th, 1963 to Catherine (McGuire) and James Driscoll.
     Born and raised in LeRoy, NY, John graduated from LeRoy High School in 1981.  He furthered his education by earning degrees at GCC, SUNY Brockport, and Roberts Wesleyan.  At Roberts Wesleyan, John received his Masters Degree in Education, a degree which gave him the opportunity to work in his dream career as an elementary school teacher.
     John wore many hats in and around his community.  He was a grade school teacher, a RCCFO football referee, and a raft guide at Letchworth State Park.  He enjoyed cycling around the community and hiking and cross-country skiing at local parks.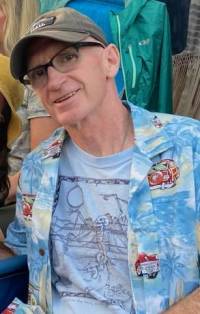 With each hat he wore, he always brought the same characteristics; perseverance, positivity, courage and humor.  These characteristics aided him in excelling in each hobby he participated in and helped him make a lasting impression on everyone he met.  In his 32 years as a high school football referee, he earned referee of the year along with a lifetime membership.  In his 15 years of teaching at Wolcott Street School, John's spirit and hard work earned him a "Golden Apple" award in 2019.
     John could always be spotted in rain, wind, and heat riding his bike around the community and back country roads.  His love for riding his bike was sparked when his two friends, Tim Mowry and Doug Legg, road their bicycles form Seattle down the PCH to Nevada finishing up in Colorado.  During the trip, John fell in love with endurance sports.  He ran the NYC marathon, participated in biathlons, and for 17 years participated in Auburn New York's Great Race with his team the "Common Gray Suckers" (Tom Borrelli, Tom Tillson and Doug Briggs). 
     When John was diagnosed with a rare form of cancer on April 29th, his faith never wavered, it got stronger.  Before he got sick, he could be seen each weekend at mass and each morning could be found on his spin bike praying.  When he was too sick to attend church, he would participate in Mass on TV and would do his daily prayers on his Bills blanket at home and in hospital beds.
     John touched each and every person he came in contact with through his warm and kind spirit.  He will be missed by his many 4th and 6th grade students, his co-workers at Wolcott Street School, his referee friends, his rafting friends, and close friends and family in and around the LeRoy community.  As a testament to his character, the 2023 LeRoy Little League season has been dedicated in his honor.
     He fought his battle the only way he knew how - with courage, positivity and a smile.  He is survived by his best friend and wife of 32 years, Kerry; his daughter, Alanna; his son, Ryan; his mother, Catherine; his brother, Jimmy (Judy); several in laws; his nieces and nephews; uncle; aunt and cousins.  He was predeceased by his father, James and his sister, Patty.
     John's family will be present to receive friends on Tuesday, January 24th from 2 ~ 7 P.M. at the Falcone Family Funeral & Cremation Service Inc., 8700 Lake St. Rd. (Rt. 19), LeRoy.  His Rite of Christian Burial will be held on Wednesday, Jan. 25th at 11:00 A.M. at Our Lady of Mercy Parish, St. Peter's Church, 44 Lake Street, LeRoy.
     In lieu of flowers, memorials are suggested to Genesee Cancer Assistance, 127 North Street, Batavia, N.Y. 14020.   www.geneseecancerassistance.org/donate/
     Your memories and condolences may be shared with John's family at www.falconefuneralhome.com.