January 19, 2023 - 11:33am
Lesa M. VanSon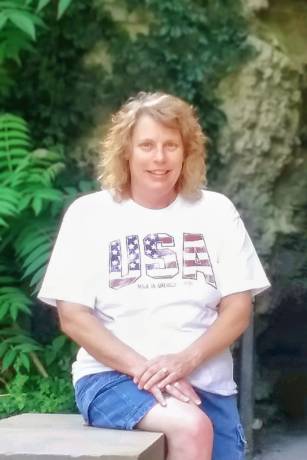 Lesa M. VanSon of Attica, passed away on January 16, 2023 in Roswell with her beloved husband by her side, after being together for 37 years. She was born in West Seneca to Allan Vivian and the late Marjorie Vivian.
Her unique creativity and tenacious energy remain in the hearts of her dear friends and family. Very few brought as much dedication and integrity to their career as Lesa, who loved and fought for "Her Guys". There were even times when her work and personal life would blend, bringing some of them to Scout events or introducing them to the many (MANY) hobbies that she enjoyed. While it would be a shorter list of things she didn't try, an attempt to list the ones she did would to include: genealogy, wood and metalworking, jewelry making, sketching, and gardening.
She was a Scout Mom, Town Historian and Curator for the Bennington Historical Society, and often the first to ask "What do you want me to make?" for any event (and she'd usually have a suggestion before you have a chance to answer). Lesa was not afraid to get involved and learn new things. Her dream was to teach others and one day pass on her knowledge to her 'grand-babies'.
Lesa is survived by her husband Todd VanSon, children Dean (Michelle) VanSon of Colden, Jessi VanSon of Attica, brother Steven (Lori) Vivian of Avon, sister Kari (Terrance) Stevens of Sandy Creek, MI, brothers-in-law Dondi (Penny) VanSon of Pavilion, Bradley (Megan) VanSon of Dickinson, ND, grandchildren Emily VanSon, Elias VanSon along with many nieces and nephews.
There will be no prior calling hours. A Celebration of Life will be held at 3:00PM on January 28, 2023 at the Attica Lodge #462, 39 Main Street, Attica, NY 14011.
In lieu of flowers, donations may be made to Roswell Park Cancer Institute, 665 Elm St, Buffalo, NY 14203, Indicator Art, https://www.indicatorart.org/donate/, Buffalo Audubon Society, 1610 Welch Rd, North Java, NY 14113, Bennington Historical Society, https://benningtonmuseum.org/gift-form/, or the SPCA, 808 Creek Rd, Attica, NY 14011. To leave an online message of condolence please visit www.marleyfuneralhome.com. Arrangements completed by Marley Funeral Home, LLC, 135 Main Street, Attica, New York 14011.