January 23, 2023 - 10:46am
Anna M. Fava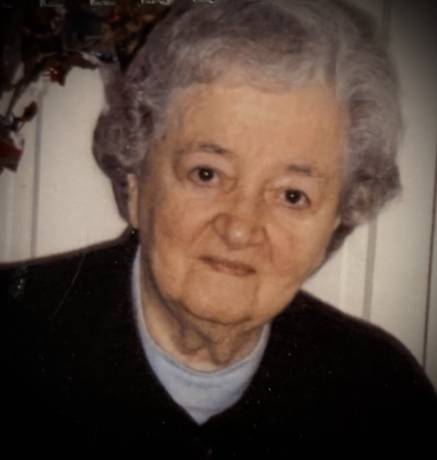 Anna M. (Costantini) Fava, age 96, a longtime resident of Oakfield, NY, passed away Jan 20, 2023. She was predeceased by her beloved husband, Gino L. Fava in 2014, after 68 years of marriage. She passed exactly nine years to the day of his death.  Born to Giuseppe and Maria Giuseppina (De Gennaro / De Janeiro) Costantini in South Alabama, NY, she was predeceased by sisters:  Mary, Elsie, and brother, John. She is survived by her three children: Susan Hubbert (Adam Malek) of Chandler, AZ and of Batavia, NY; William (Cathy) Fava of Batavia, NY and Apollo Beach, FL; Debra (Robert) Cecere, of Victor, NY; plus, her younger sister, Edna (Costantini) Bradley of Concord, CA.
Anna was blessed with seven grandchildren; Dr. Dina (Dr. Mark) Dosch of Pittsburgh, PA; Pamela Cecere of Penn Yan, NY; Matthew (Kathryn) Fava of Manassas, VA; Ryan (Hannah) Fava of Ballston Lake, NY; Patrick (Melody) Fava of Batavia, NY; Philip (Kristine) Fava, of Batavia, NY; and Col. Patrick (Lt Col. Brandy) Malone of Odenton, MD. She is also the proud great grandmother to sixteen great grandchildren; Mary Rose, Joseph, and Michael Dosch of Pittsburgh, PA; Wyatt, Olivia, and Clara Fava of Ballston Lake, NY; Will, Michael, and Laura Fava, of Manassas, VA; Elliana, Parker, and Tillie Fava, of Batavia, NY; Gino and Louie Fava; of Batavia, NY; Alex, and Samuel Malone of Odenton, MD.
Anna was the heart of our family, a devoted wife, mother, grandmother and a friend to many. Fluent in both French and Italian, she corresponded with family in Italy, Canada, Australia and across the United States. Her strong belief in family, lead her to become the family historian, hosting many family reunions.
A tea drinker before it was fashionable, Anna was a lover of literature and music her whole life. Coming from a very musical family she played clarinet in her high school orchestra and marching band, knew the words to hundreds of songs, and always learned our piano recital pieces better than we ever could.
She was a talented cook and ran the kitchen side of every restaurant/bar she and Gino owned, starting with the Country Grill that her father built in 1926, then the Oakfield Hotel, and the Royal Restaurant on Main Street in Oakfield.  She and Gino offered the first pizzas in Oakfield before pizza parlors were popular, only passing on her secret dough recipe after her retirement, to a younger generation of Fava's.  
Like many women of her generation, she held numerous jobs before working at her final place of employment at the Batavia, Veterans Hospital, where she retired from in 1989. Through her dedicated efforts she was able to advocate for many veterans, helping them to receive the benefits and service they deserved. Upon her retirement she was still active as secretary of the local NARFE chapter and was also a longtime member of the Women's Auxiliary for the American Legion, in Basom, NY.
Another little know fact of our amazing mother was her post WWII service for the Air Force Defense Team. In 1959 she was awarded a life time membership in the Ground Observation Corp, an organization created during WWII and continued during the 1950's era of the cold war. Civilian volunteer spotters, worked as a defense effort, to protect Niagara Falls, a major producer of the power at that time and a likely target of enemy attack. Volunteers spent hours scanning the sky with binoculars to identify planes by type and call in their observations to the Air Force from a small shanty building located on Drake Street in Oakfield. Anna was one of those volunteers. Another proud moment for our mother, a lifelong Democrat was meeting, John F. Kennedy in person, before he was elected President, in 1960.
Anna loved her family with all her heart and soul and taught us by example to be honest, hardworking, a friend to others and how to be family. She will be missed more than words can tell.
There will be no prior calling hours. An 11:00AM Mass of Christian Burial will be held on Friday January 27, 2023 at St. Padre Pio Parish 56 Maple Ave. Oakfield, NY 14125.
In lieu of flowers, the family kindly suggests offering a mass in her honor, or donations to either: Notre Dame HS, at 73 Union St. in Batavia, NY; Or Boy Scouts of America, Iroquois Trail Council, 102 South Main Street Oakfield, NY. To leave a message of condolence please visit www.gilmartinfuneralhome.com. Arrangements completed by Gilmartin Funeral Home & Cremation Company, Inc. 329-333 West Main Street, Batavia, New York 14020.