January 26, 2023 - 1:11pm
Thomas J. Clark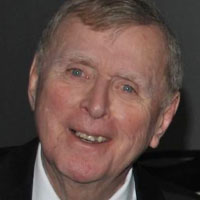 Thomas J. Clark, 82, of Bradenton, FL passed away at his home Sunday morning January 22, after a long illness.
Tom, born on March 7, 1940, was from Stafford, NY where he grew up on the Clark family farm with his parents Edward and Grace, and his sisters Julia, Martha, and Mary. 
Tom attended Notre Dame high school where he played football, basketball, and baseball.
Tom attended John Carroll University and was a member of the Marine ROTC. He served for 6 years. After college he worked for Niagara Mohawk as a lineman and then began a 41-year career with the railroad as an electronics technician with the signal department. He retired from CSX in 2002.
Tom married Peggy on October 22, 1966. They were married for 56 years. They raised their three children, Mark, Colleen, and Kevin, in Stafford next door to Tom's childhood home.
Tom enjoyed the outdoors, was a trap shooter and an avid hunter. His enjoyment of the outdoors was only surpassed by his love for his family. His support, and sense of humor will be remembered and cherished by his family and friends.
Tom is survived by his wife Peggy (Margaret Wickens), his children – Mark Clark of Niskayuna, NY, Colleen Clark-Apelanz (Ildefonso) of Nassau, NY, and Kevin Clark (Pariss) of Bradenton, FL, his sisters - Julia Weideman of Orchard Park, NY, and Mary Moses of Whitesett, NC, his grandchildren - Tina Collins (Jeff), Michael Pace, Jack and Mia Clark, Emily and Abigail Clark, Ildecito Apelanz, his 4 step great-grandchildren - Aidan, Avery, Anna and Aubren Collins and several nieces and nephews. He is predeceased by his parents Edward and Grace Kenna Clark, his sister Martha Clark and his Great Grandson Emmett Collins.
Services will be held on Tuesday, January 31, at Brown and Sons Funeral Homes and Cremator 604 43rd Street West Bradenton, Florida 34209. 10 am – 11 am – calling hour 11 am- Memorial Service.
A celebration of life will be held at a later date in New York.

Donations can be made in memory of Thomas Clark and sent to: Tidewell Foundation 3550 S. Tamiami Trail Sarasota, FL 34239 OR Notre Dame High School 73 Union Street, Batavia, NY 14020.