January 27, 2023 - 8:02am
Lillian M. Martin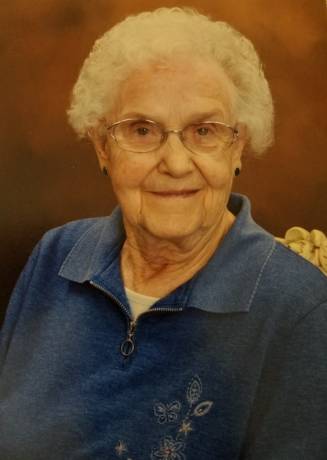 Lillian M. Martin, age 92, went home to be with her Lord and Savior Jesus Christ on Monday, January 23, 2023 at WakeMed Hospital in Cary, North Carolina.
She was born March 7, 1930, in S. Alabama, NY , a daughter of the late Charles Frederick Fitzsimmons and Dora Agnes Hitchcock.  She graduated from Oakfield Alabama High School in 1947.  She was a seamstress at Melton Shirt Factory and a homemaker.
Lillian is predeceased by her husband, John Philip Martin; and her siblings Hazel Fitzsimmons, Robert Fitzsimmons, Elmer Fitzsimmons and Nellie
Graziaplena.
Surviving are her children, Cherie (Gary) Kazda of Jenks, Oklahoma and Cindy (Daniel) Lallo of Fuquay-Varina, North Carolina; five grandchildren, Kim Kazda of Highland Village,  Texas, Vickie  Lease of  Jenks,  Oklahoma, Lisa (Franmir) Ramirez of Jenks, Oklahoma, Katie Lallo of Fuquay-Varina, North Carolina and Joshua Lallo of Fuquay-Varina, North Carolina; five great-grandchildren; her sister Freda Klotzbach of Kenmore; many nieces and nephews.
She loved her family and attending church.  She loved to travel.  She visited all 50 states including making it to the very last one she needed to visit by going on a cruise to Alaska with her daughters in 2019.  She also visited several foreign countries and lived in Germany with her husband during his service in the army.  She enjoyed watching the Buffalo Bills play and loved to play bingo.  She was very proud of her Irish Heritage.
Her family would like to thank the staff at Jordan Oaks Retirement Community and Home Instead for their kindness while Lillian lived there.  They would often comment what a sweet, funny lady she was.
She will be laid to rest in Reed Cemetery.  A Memorial Service will be planned for late summer.
In lieu of flowers, donations may be sent to The Shepherds Church, 6051 Tryon Rd, Cary, North Carolina 27518 or Crossroads House, P.O. Box 403, Batavia, NY 14020, www.crossroadshouse.com/donate.
To leave a condolence, share a story, or light a candle in her memory, please visit www.burdettandsanford.com.
Arrangements for Lillian were entrusted to the Burdett & Sanford Funeral Home, Oakfield, (585) 948-5325.