January 27, 2023 - 1:33pm
Frances C. Marcello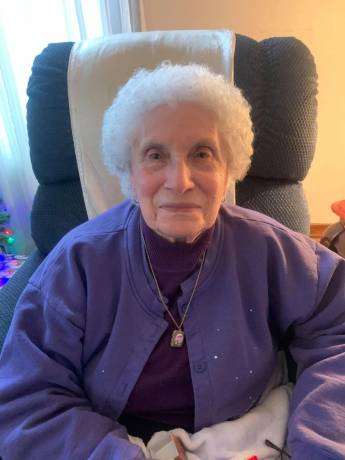 Frances C. Marcello, 90 of Batavia, passed away peacefully surrounded by her loving family on Thursday, January 26, 2023 at United Memorial Medical Center in Batavia. She was born July 7, 1932 in Batavia, to the late Nicholas and Mary (Trinchera) Colantonio. She is preceded in death by her beloved husband of 70 years Joseph S. Marcello, son Nicholas Marcello.
Mrs. Marcello loved to cook and bake for her family, especially on holidays, making family traditional Italian recipes. She loved to sew, knit and crochet baby sweaters, hats, scarfs and blankets. She worked at GTE Sylvania and Carr's Department Store in her younger years.
Frances was a woman of deep faith, saying her daily prayers and rosary. She enjoyed watching her grandchildren play sports.
She is survived by her loving children, Joseph (Denise) Marcello of Hattiesburg, MS, Ava (Ronald) King, Mark (Roni) Marcello, Lori (Robert) Waite, Philip (Kim) Marcello, sister Carmella Ilacqua, all of Batavia, sisters-in-law, Elizabeth Kinne, Carol (Bryce) Casey, 9 grandchildren, 8 great-grandchildren, along with many nieces, nephews and cousins.
Friends are invited to call on Monday, January 30, 2023 from 4 to 7pm at Gilmartin Funeral Home & Cremation Company, Inc. 329-333 West Main Street, Batavia, NY 14020. A 9:30am Mass of Christian Burial will be held on Tuesday, January 31, 2023 at Resurrection Parish, 303 East Main Street, Batavia, NY 14020. She will be laid to rest in St. Joseph's Mausoleum, Batavia.
In lieu of flowers, memorials may be made to St. Jude Children's Research Hospital at www.stjude.org. To leave messages of condolence please visit www.gilmartinfuneralhome.com. Arrangements completed by Gilmartin Funeral Home & Cremation Company, Inc. 329-333 West Main Street, Batavia, New York 14020.