January 29, 2023 - 8:17am
Samuel Joseph Patri Jr.
posted by
LaVern Falcone
.
Batavia ~ Samuel Joseph Patri Jr., age 85, passed away at the NYS Veterans Nursing Home on Friday morning, January 27, after a short illness.
     Sam was born in Batavia on September 15, 1937 to the late Samuel Joseph Patri Sr. and Rose Marshall Patri.  He was affectionately named "Babe" by his family because he was the youngest.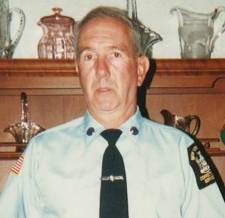 Sam attended Batavia City Schools through his Junior high school year.  He then attended his Senior year and graduated from Notre Dame.  He went to work at Sylvania Products until they closed.  During this time, he also enlisted in the Army.  His military service included; one year in the Army National Guard in Batavia; two years active duty in Berlin, Germany; five years in the Army Reserves in Batavia and then four years in the Army National Guard Reserves, Special Forces in W. Virginia.
     He earned an Associates Degree at Genesee Community College and went on to work for the New York State Department of Corrections as a Corrections Officer and retired after 21 years of service.  He was awarded a plaque from the State because he never missed a day of work in those 21 years.
     Sam is survived by his beloved wife, Mary Eileen Patri; step-family, Odette (Glenn) McClurg of LeRoy, Robert (Christina) Brydges of LeRoy; grandchildren, Shane McClurg, Tyler McClurg, Austin Brydges and Ella Brydges; nephews, Joseph Fisk of AZ, Michael McCahera of AZ, John McCahera of AZ; Niece, Rita McCahera of FL; cousins, Marilyn Harris, Dean Harris and many other cousins; brothers-in-law, Frank (Nancy) Howard and Lawrence Howard; sisters-in-law, Ethel Stephenson and Dorothy (Randy) Roth.
     Sam is predeceased by his brother, Norfe Patri; sister and brother-in-law, Anna (John) McCahera and his niece, Ann Marie McCahera.
     Sam enjoyed travelling with Mary to the Bahamas and spending time with the family, especially holiday gatherings and picnics. He also enjoyed fishing with his brother, cousins and nephew.  He and Mary loved flower gardening and spending time outdoors.  Through the years, Sam rescued many cats as well.   He will be dearly missed.
     Family and friends are invited to attend Sam's Rite of Christian Burial on Thursday, Feb. 2 at 11:00 AM at Resurrection Parish, St. Mary's Church, 18 Ellicott Street, Batavia, N.Y.  He will be laid to rest in the Western New York National Cemetery.
     In lieu of flowers, contributions in memory of Sam are suggested to Volunteers for Animals of Batavia, 3841 West Main St. Rd., Batavia, N.Y. 14020
     Your memories and condolences may be shared with Sam's family at www.falconefuneralhome.com.