Image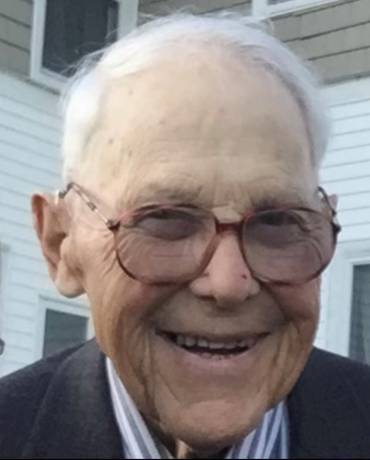 John Lemuel Sackett, Jr. died at home January 2nd, 2023. Born July 18, 1928, the third child and only son to John L. Sackett and Florence Minerva Wells Sackett of Riga, NY.
Raised with three sisters on a farm, after attending Alfred State College, John hitchhiked to Kansas State University (BS) and served in the intelligence service of the US Army during the Korean War. He married Jean E. Lovejoy in 1956 and worked as a dairy farm manager before buying and moving to their own farm in Byron with their three children- Deborah (Jay Miller), John III (Rose)- both deceased- and Charles (Amy).
John completed his MS in Education at Cornell University after losing his left hand in a farm accident while harvesting corn. He taught agriculture at LeRoy and Warsaw high schools and then Agricultural Mechanics at Gen-Wyo Co. BOCES until his retirement.
John was active in local politics and served for years as Byron Town Supervisor and a Genesee County Legislator. He was an engaging conversationalist and was always eager to discuss current issues with anyone. John believed strongly in the value of the exchange of ideas and opinions and was a prolific writer of letters to the editor in the Batavia Daily News. He especially championed personal responsibility, lower taxes and freedom from government interference.
He was a life member of Byron Kiwanis, NRA, Genesee Co. SCOPE and various agricultural organizations. He was also an avid private pilot and past president of the Genesee County Pilots Assn. He enjoyed flying his plane and using his tractors and did so into his 9th decade despite infirmities and handicaps.
Ultimately, John was a farmer and teacher who believed that one reaps what one sows. He spent his life sowing good seed, pulling weeds and hoping to reap a manifold harvest. He leaves five grandchildren and five great-grandchildren.
A Memorial Service for both John and Jean Sackett will be held later in the spring.
Memorials may be made to the Byron Kiwanis Club. To leave messages of condolence please visit www.gilmartinfuneralhome.com. Arrangements completed by Gilmartin Funeral Home & Cremation Company, Inc. 329-333 West Main Street, Batavia, New York 14020.