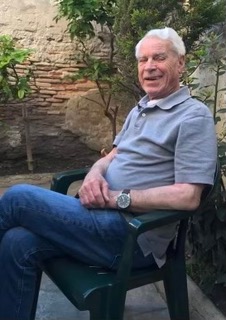 Keith Martin Klotzbach, 93, of Akron, NY, passed away peacefully in his home surrounded by family on Saturday, February 4, 2023.
Keith was born in the middle of nine children to Jacob and Helen (Blish) Klotzbach on February 3, 1930. 
He was a loving and adoring husband, father and grandfather. Keith served his country with the United States Air Force from 1950 -1954. He was a life-long member of the Indian Falls United Methodist Church and choir. Keith had an adventurous spirit, was a world traveler with a quirky sense of humor and quiet wisdom.  Most of all, he was devoted to his family and cherished them. He will surely be missed by all who knew him.
He was preceded in death by his wife of 59 years Helen (Anderson) Klotzbach, and his siblings Winton (Jean) Klotzbach, Richard (Claudine) Klotzbach, Doris (Bernard) Cummings, Donald Klotzbach, Bruce Klotzbach, Barbara Kern, and Robert Klotzbach, and sisters-in-law, Grace (Donald) Green, and Julia Brady.
He is survived by three children: Julie Klotzbach (Gary Diamond), Douglas Klotzbach (Maria Fletch), and Jill Bogart (Chris). His loving grandchildren are Theresa Klotzbach, Joshua Bisson, Sarah Klotzbach, Leah Bisson, Hannah Klotzbach, Dean Bogart, Cara Klotzbach, Seth Bogart, Evan Bogart, and Aubrey Bogart. Brother, Lawrence (Linda) Klotzbach. Brothers-in-law, Ronald Brady, Sr. and Ronald Kern. Sisters-in-law, Joan Dermody, Roberta Mazza, Harriett Klotzbach, and Frieda Klotzbach. Also survived by many nieces, nephews and cousins.
Family and friends are cordially invited to share in a Memorial Service on Saturday (February 11th), 11:00am at the Indian Falls United Methodist Church, 7908 Alleghany Rd, Corfu, NY.
In lieu of flowers and gifts, memorial contributions may be offered to Hospice Buffalo, 225 Como Park Blvd, Buffalo, NY 14227 or Indian Falls Church, 7908 Alleghany Rd, Corfu, NY 14036. Expressions of sympathy may be shared with the family at www.mcandrewfuneralhomes.net.
ARRANGEMENTS WERE ENTRUSTED TO THE J. LEONARD McANDREW FUNERAL HOME, LLC, 32 JOHN ST., AKRON, NY 14001. RONALD KONIECZNY II, DIRECTOR.