Image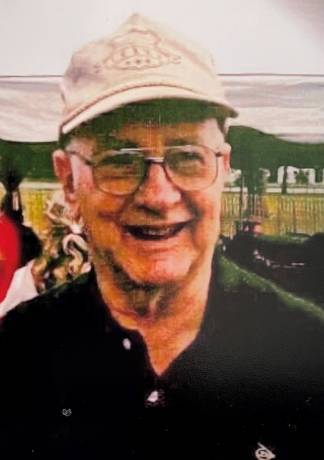 Francis M. Buckenmeyer, 92 of Alexander, passed away peacefully on Friday, February 3, 2023 at LeRoy Village Green. He was born April 30, 1930 in Alexander to the late Charles and Margaret (Gilhooly) Buckenmeyer. He is preceded in death by his beloved wife Joan (Hanley) Buckenmeyer, daughter Meg Buckenmeyer, son-in-law Bill Franz, all nine of his siblings, Elizabeth Buckenmeyer, Charles (Vie) Buckenmeyer, Mary (Larry) Falkowski, Catherine (Paul) Raines, George Buckenmeyer, Dorothy (Eddie) Moynihan, Lucy (Jim) Moag, Margie Hofmann, Bernie Buckenmeyer.
Mr. Buckenmeyer was a lifelong farmer and widely respected Cattle Dealer across Western New York. He was a family man that loved his children, grandchildren and great-grandchildren. Mr. Buckenmeyer always had gum for any kids he may have run into. He was known for his one liners and used to say "If you can't laugh at your own jokes, no one else will".
Francis was an elite athlete of his time; he held the 220-yard track record at Alexander High School for 25 years. He was inducted into the Alexander Athletic Hall of Fame, he played football, basketball and track at SUNY Brockport. Francis was a life long member of the Alexander Fire Department. Mr. Buckenmeyer enjoyed playing golf and cards for most of his life.
He is survived by his son Michael (Debby) Buckenmeyer of Attica, daughters, Patty (Tom) Moynihan of Alexander, Susan Franz of Attica, Barbara (Jeep) Quinn of Alexander, Lori (Richard) Miller of Alexander, sisters-in-law, Geri Buckenmeyer, Dorothy Buckenmeyer, brother-in-law Jim Hofmann, 13 grandchildren, 26 great grandchildren, along with many nieces, nephews and cousins.
There will be no prior calling hours. A Celebration of Life will be held at 2:00PM on Saturday, February 11, 2023 at the Alexander Fire Hall 10505 Main St, Alexander, NY 14005.
A special thanks to LeRoy Village Green Nursing Home for their many years of care for our dad.
In lieu of flowers, memorials may be made to the Alexander Fire Department, P.O. Box 336 Alexander, NY 14005. To leave an online message of condolence please visit www.marleyfuneralhome.com. Arrangements completed by Marley Funeral Home, LLC, 135 Main Street, Attica, New York 14011.