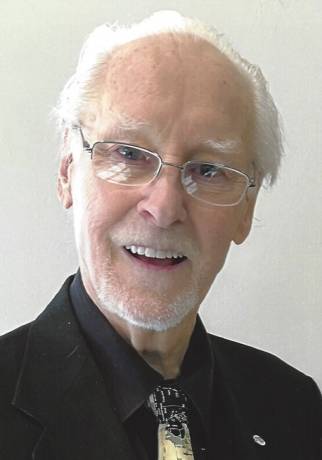 Charles Gilmore Samuelson "Gil", 90 of Akron, NY, went home to Jesus on Sunday, February 5, 2023.
He was born July 31, 1932 in Warren, PA, a son of the late Carl and Violet Gilmore Samuelson.
He attended schools in Warren, PA until he graduated, where he would further his studies at Bryant & Stratton (Buffalo, NY), University of Buffalo and Southwestern Baptist Theological Seminary in Fort Worth, Texas. Gil served in the U.S. Army from 1953-1955 as an accountant and was in officer training. He was employed as a property accountant for Republic Steel and Director of the City Mission of Niagara Falls.
After graduating from the seminary in 1975, Gil found his passion. He loved his Lord and enjoyed serving him in any capacity from a young boy to adulthood. He held every job a church member could before becoming a pastor.
Gil also enjoyed playing and being a spectator of all sports, including golf, tennis, racquetball, basketball, football, bowling and volleyball. He truly loved his wife, daughters and all the grandchildren and great-grandchildren that he was blessed with and was happiest when he was surrounded by his church and his family.
Survivors include his wife, Ruth Elaine Geisthardt Samuelson of Akron. Daughters, Linda Marie (Dale) Phillips of Etowah, NC, Darlene Ruth "Sam" (Herm) Clouse of Akron, NY and Heidi Beth (Cliffton) Baker of Rochester, NY. Also survived by 14 grandchildren and 17 great-grandchildren. Gil was predeceased by his daughter Cheryl Lee Goley of Weatherford, TX.
Family and friends are cordially invited to share thoughts, condolences and fond memories on Saturday (February 18th) from 10am-11am at Calvary Baptist Church, 12752 Lewis Rd., Akron, NY. A funeral service will commence at the conclusion of visitation at 11am. Interment with Military Honors will be in the Western New York National Cemetery.
Expressions of sympathy may be shared with the family at www.mcandrewfuneralhomes.net.
ARRANGEMENTS WERE ENTRUSTED TO THE J. LEONARD McANDREW FUNERAL HOME, LLC, 32 JOHN ST., AKRON, NY 14001. RONALD KONIECZNY II, DIRECTOR.