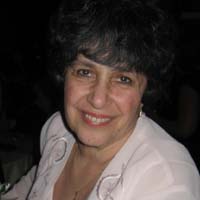 UPDATED: Regina Abdella of Batavia, NY, beloved mother, grandmother, sister, and aunt, passed away on February 13, 2023 at 79 years old. She lived a remarkably full life. She was known for her beautiful smile, large family, and generous spirit. A dedicated care-giver, she received her nursing degree from Catherine McAuley School of Practical Nursing at St. Jerome Hospital, in Batavia NY. She continued as an LPN at St. Jerome's Hospital until its close and then worked and retired at United Memorial Medical Center after more than 45 years of nursing. 
Throughout her life she volunteered and was a part of many organizations including Crossroads House, Stafford Fire Department Ladies Auxiliary, Aglow, Lion's Club, The Salvation Army, and a CCD teacher and eucharistic minister at St Peter's Church in LeRoy, NY and Immaculate Conception in East Bethany, NY.
She was known to call and sing 'Happy Birthday' to all she met, hand deliver Christmas cookies, sing to her patients, and nurse many homebound elderly. She spent much of her free time with her large Lebanese family, always particularly close with her identical twin sister Mary.
She was predeceased by her parents Anthony and Madeline Abdella, twin sister Mary Abdella, sister Anne Teresa Feltham and brother-in-law David Saleh.
She is survived by: Her children—Joseph Palaszynski (Flavia), John Palaszynski, Julie Behlok, and Karen Padron (Lisa); siblings—Raymond Abdella (Jan), brother-in-law Tom Feltham, Larry Abdella, Gerry Abdella (Elaine), Liz Saleh, Tony Abdella (Sheri) and Cathy Hatoum (Sami); eight grandchildren, and many nieces and nephews.
Gina donated her body to the University of Buffalo Anatomical Gift Program. 

Family and friends are invited to call on Sunday March 19th from 1:00-2:00pm at The Stafford Firehall, 6153 Main St Stafford NY, 14143. A celebration of life and meal will follow. A funeral mass will be held on Monday, March 20th at 10:30am at St Mary's Church, 18 Ellicott St. Batavia, NY 14020. All are welcome. 

In lieu of flowers, donations can be made to Crossroads House at Batavia NY. https://www.crossroadshouse.com