LeRoy ~ Marjory Louise Cutaiar, age 65, passed away on February 3, 2023.
     She was born April 21, 1957 in Rochester, NY, a daughter of late George and Marjory Cutaiar.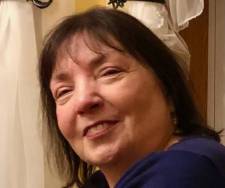 Marge was a 1975 graduate of Churchville-Chili Central School.  She then attended SUNY Morrisville and Monroe Community Colleges.  She was currently employed by GE HealthCare.
     She was an avid Buffalo Bills fan and was a season ticket holder for quite a few years.  She enjoyed going to movies, musical theater productions and traveling with her friends.  She talked often of her favorite trip to Italy.
     Marge will be remembered as a loving, caring and gentle person, who will be greatly missed by her family, friends and coworkers.
     In addition to her parents, Marge was predeceased by her brother, George Cutaiar and niece, Danielle Downey.
     She is survived by her siblings, Mal (Anne) Cutaiar of Plattsburgh, Phyllis (Mark) Lavner of Fairport, Emma (Tom) Edwards of Attica and Frank (Alice) Cutaiar of Churchville; many nieces and nephews; dear friends, Ellie and Chuck Lathan and her feline companion, Smudge.
     There will be no prior visitation.  A celebration of Marge's life will be held at a later date.
     Contributions in memory of Marge may be made to Lollypop Farm, 99 Victor Road, Fairport, N.Y. 14450.
     Your memories and condolences may be shared with Marge's family at www.falconefuneralhome.com.