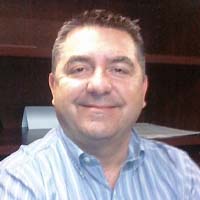 It is with great sadness we announce the unexpected passing of Matthew J. Goodenbery, at the age of 58, a Navy veteran from El Paso Texas, formerly of Batavia New York. We are heartbroken to lose someone special who will be deeply missed. Matthew was reunited with his parents, Jim and Irene (Pietrzykowski) Goodenbery, his brother James R. Goodenbery Jr. and his sister Teresa Robinson.
He is survived by his daughters, Kara (Achibe) of San Antonio TX. and Alina of Santa Fe NM. His brothers and sisters, Barb (Mike) Crowley, Mark Goodenbery, Ann Wilson (Steve Bennett), Irene Fuller, Martin Goodenbery, Rose Luce, Bernie Goodenbery, (Mike Owens), Steve Robinson, Jan Goodenbery (Mike Vickner). Nieces, nephews,who loved him dearly, cousins too many to mention, and his coworkers and friends.
A CELEBRATION OF LIFE WILL BE AT THE CONVENIENCE OF THE FAMILY.
IN LIEU OF FLOWERS PLEASE CONSIDER MAKING A CONTRIBUTION TO: HSELPASO.ORG / HUMANE SOCIETY OF EL PASO OR VOLUNTEERS FOR ANIMALS OF BATAVIA: VOL4ANIMALS.ORG. MATT CARED DEARLY ABOUT THESE AND THEY MEANT A LOT TO HIM.